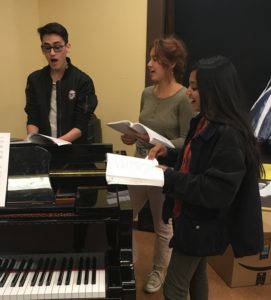 Villanova's immensely creative talent manifests each year in the form of its spring musical. This year, students' hard work comes to life on stage as they present Beauty and the Beast. The musical will run from Thursday, April 19th to Sunday, April 22nd. Performances are at 7:00 pm each night. Tickets are $10.
Villanova's annual spring musical would not be possible without the extreme dedication of the students who work both on and off stage. Beauty and the Beast will be held in Villanova's outside amphitheater. Be sure to bring your own lawn chairs and prepare for the weather. 12096 N. Ventura Ave. 646-1464 x126
The Ojai Community Chorus will feature a delightful musical tour of the United States and around the world, featuring such favorites as "I Left My Heart in San Francisco," "Georgia on My Mind," and "Cabaret." The chorus will be joined by a children' s ensemble and accompanied by a fabulous local band. Sat., May 5 at 7 p.m. and Sun., May 6, at 3 p.m. at the Ojai United Methodist Church, 120 Church Rd., 640-0468 for additional information. Tickets are available at ojaichorus.brownpapertickets.com. They will be available at the door for an additional $5. ojaichorus.wordpress.com.
Andrew Morris will visit the Ojai Library at 1 p.m. on Saturday, April 14, to deliver a presentation titled "A Spirituality of Imperfection at Work." Morris comes from CSU Channel Islands, and is the third speaker in this season's CI Library Lecture Series.
CSU Channel Islands hosts dozens of free public lectures at libraries throughout Ventura County as part of this program. The lecturers are experts from numerous departments.
Author Elizabeth Gould will visit the Ojai Library at 1 p.m. on Saturday, April 21, to deliver a presentation on her book Your Best Health by Friday. Learn how childhood trauma can kill us as adults, why our left-brain dominant society is facing so much illness, and action steps to develop the right hemisphere to heal.
Gould began writing for one reason: she was too sick to return to her career as an import operations manager for a large women's clothing manufacturer. When she started she had no idea how to write professionally and had not written at all since college. Six years later she had not only gotten the hang of writing, she was also a lot healthier.
This event is free and open to the public. For additional information, contact Ron Solórzano, Regional Librarian 218-9146.
The Ojai Photo Club will feature photographer and documentary cinematographer Sarah Bourscheid as its guest presenter for April. The free event, "Quiet Compassion," will be held on Tuesday, April 17, at 7 p.m. in Help of Ojai's Kent Hall, 111 W. Santa Ana St.
For Bourscheid, her photography is a journey of growth, deepening her own empathy. "In this tumultuous and divided world," she writes, "it's important to understand that our differences can bring us closer." For more information about Bourscheid's work http://scheidmedia.com/
Monthly free presentations are part of the Ojai Photography Club's community service and education outreach. The general public is always welcome to attend.
The club, which is devoted to education, inspiration, and camaraderie, meets on the third Tuesday of each month, February – November. Only members may submit images for critique. More information is available at: www.ojaiphotoclub.com/