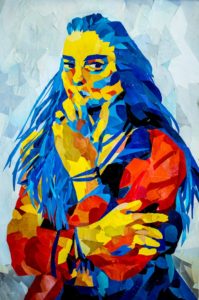 The first annual VUSD student art show will be held at the Museum of Ventura County, through the efforts of the Ventura Arts Collaborative, a cooperative program of Ventura Unified School District, the City of Ventura and the Ventura Education Partnership. The juried show will highlight incredibly talented high school, middle school and elementary school student artists.  In total, over 50 works have been selected from hundreds of submitted pieces – including watercolors, photography, acrylic paintings, mixed media and pencil drawings.
According to Elena Brokaw, Executive Director of the Museum of Ventura County, "This partnership between the school district and the museum is a direct result of our community's commitment to the Arts.  Ventura is a city where art and artists are celebrated and welcome. We are proud to be a part of this new annual tradition."
On Thursday, April 19 from 5:00-6:30 pm there will be a VIP Reception. This event will be followed by a $25.00 ticketed fundraising event (6:30-8pm) and student awards will be presented at 7:00 pm. All proceeds from this event support VUSD's art programs.  The art show is open to the public on Saturday, April 21st from 11:00 am-5:00pm. Admission is free. In addition to viewing artwork, student musicians will be performing throughout the day and local food trucks will be on site.
Museum of Ventura County, 100 East Main St.