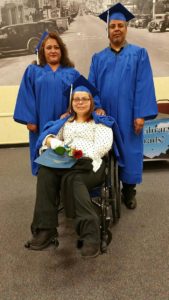 On Tuesday, March 20, family and friends gathered to celebrate the first class to graduate from Ventura County Library's Career Online High School. Tears of pride flowed in the audience as four of the six graduates shared their stories and their plans for the future. Cheers arose from the group as each graduate, in cap and gown, rose to receive their diploma.
One highlight of the program came when Carolyn Vang-Walker, principal at Ventura Adult and Continuing Education, addressed the crowd and informed the graduates that as COHS graduates they were eligible to receive scholarships for one of the school's many vocational career programs.
Nancy Schram, Director of the Ventura County Library, gave an inspiring Commencement Address before delivering diplomas to the graduates. She stated
"All of us at the Ventura County Library are so proud of our recent graduates of the Career Online High School program. Each of these adult learners has earned a high school diploma through this innovative program, often while also juggling numerous home and work responsibilities. It is an amazing accomplishment with real results that will enable them to continue to achieve success in their future educational and career goals. It is a perfect example of how public libraries really do improve lives and strengthen communities."
Career Online High School (COHS) is offered by the Ventura County Library's READ Adult Literacy Program in partnership with Gale, a Cengage company. COHS provides adults the opportunity to earn an accredited high school diploma and career certificate by utilizing the flexibility of the Internet to accommodate busy adult schedules.
Career Online High School is one of several programs offered through the Ventura County Library READ Adult Literacy Program, and is an ongoing program accepting signups throughout the year. To learn more about the READ Adult Literacy programs and ways you can participate, call 677-7160.