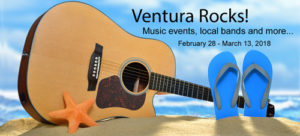 by Pam Baumgardner
VenturaRocks.com
Our community's heartfelt thanks go out to the Ventura Music Festival for the exceptional talent they brought for the Concert for Ventura on Sunday, February 25 at Mission Park. The free family-friendly concert featured Tom Scott and the LA Express, John Ferguson and friends as well as the VC Singers and VMF Artistic Director, Nuvi Mehta. Both Scott and Ferguson call Ventura home so it was extra special having them perform. The special event was designed to help give thanks to first responders, to solace those who have lost and to celebrate our community through the healing power of music.
JD has announced the dates for this year's Surf Rodeo and tickets are on sale now at www.SurfRodeo.org. The music line-up is yet to be announced, but know this, the earlier you purchase your tickets, the more you save. The music and surf festival will fall over the weekend of July 14th and 15th at Pierpont Beach at the end of Seaward. Sponsorships, and vendors are lining up as we speak, if you're interested just go to their website.
I'm sorry to report that we have lost local icon, John Robert Mosby, who passed away on February 19th. Johnny, along with his wife, Jonie, performed as Mr. and Mrs. Country Music recording over a dozen albums, charting seventeen times on the country charts and won two Academy of Country Music awards in the sixties. He was also a life time member of this Academy and served a president for two years in the early 80's. Though the two loved to tour they decided to buy a club to play in while at home which luckily for Ventura was the Ban-Dar which would continue to be our local Honky-Tonk where the likes of Willie Nelson, Merle Haggard or Johnny Cash would drop in for a spell. Johnny owned and operated the Ban-Dar for over 42 years. There will be a special celebration of his life at the Ventura Beach Club on March 11 with a jam for any musicians who would like to pay tribute.
Quick notes: Dylan Garcia has signed a management deal with Romulo Canizales and he's gearing up to work with Grammy, Oscar nominated, multi-platinum, Diamond Certified Record Producer Ronnie King for his next single; Wrecking Crew member, Don Randi returns to Squashed Grapes for a CD release party on Saturday, March 3 and then he'll be performing with Shari Puorto for a Hi Hat Entertainment show at the Hong Kong Inn on Friday, March 16; Tickets are on sale for shows at the Ventura Theater for Flogging Molly on March 19, Ministry on March 23 and the Descendants for May 3; Tickets are on sale for shows at Discovery for Donavon Frankenreiter on March 16 and Ozomatli on March 31; and finally, Winchesters Grill will start offering live music on the weekends starting March 2nd with Dan Grimm.
Do you have any music-related news or upcoming shows you want help publicizing? Please send all information short or long to [email protected], and for updated music listings daily, go to www.VenturaRocks.com.