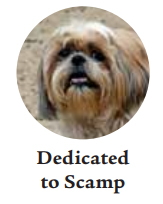 • SPAN Thrift Store is providing $10 spays and neuters for low income cat and dog friends. In the SPAN Thrift Store parking lot 110 N. Olive St. (behind Vons on Main) Friday, March 2nd. Please call to schedule an appointment 584-3823.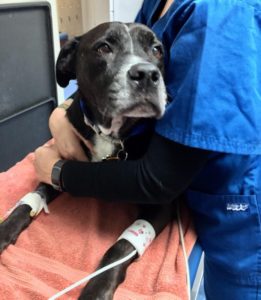 • Hi, Sheldon:
Hope this email finds you well! Thank you again so much for featuring Mojo's Story. Without your help I don't think we would have raised the money in time. Mojo was sent home the day after surgery. It's been a rough week but he's finally starting to feel a little better and move around a bit. Vetsurg was wonderful to Mojo! Dr. Holsworth even donated the implants for Mojo's surgery which took off $250 from the bill. They also donated a treatment called PRP (protein rich plasma) which helps in speeding healing. Shalisa Chamberlain
• The Jackson Laboratory for Genomic Medicine's new program, the Tallwood Canine Cancer Research Initiative will create a biobank of dog tumors to provide researchers around the world with new insights into cures for cancers in dogs, and humans too.
Owners of dogs diagnosed with cancer can opt to have their veterinarian (if their practice is participating in the research initiative) remove their dog's tumor during treatment and donate it to the program.
Using comparative genomics, they can identify which parts of DNA could contribute to an increased risk of specific types of cancer in certain dogs. Then look for corresponding regions in people to gain insights into new mechanisms that cause similar cancers in humans. This strategy is particularly useful for cancers that are rare among humans, but more commonly found in certain dog breeds
• In an effort to better align their current resources to workload and to properly care for and enrich the lives of the animals in their care, Ventura County Animal Services will be closed to the public every Monday beginning March 1, 2018, for pet adoptions. This closure will affect both the
Camarillo Animal Shelter at 600 Aviation Drive and the Simi Valley Animal Shelter at 670 W. Los Angeles Avenue. The shelter will be open for those who have found lost pets.
• RedRover, a national nonprofit animal welfare organization, was awarded a $433,000 grant from an anonymous foundation in support of the RedRover Relief Domestic Violence Assistance Program. This generous grant will allow RedRover to offer more financial assistance for safe pet boarding and veterinary care through the Safe Escape program, increase their Safe Housing grant amounts from $6,000 up to $20,000 and launch a pilot program that enables domestic violence shelters to create their own plan to help survivors of domestic violence and their pets escape abuse together. The grant also funds general operating costs for the program.
All too often, domestic violence victims stay in abusive homes for fear of subjecting their animals to abuse if they leave. RedRover Relief Safe Escape grants pay for temporary boarding and/or veterinary care to enable a domestic violence victim to remove pets to safety so that no member of the family is left behind.
Since helping its first victim of domestic violence with a RedRover Relief Safe Escape grant in 2007, RedRover has awarded 382 grants to help 688 people with 13,897 nights of boarding for their pets. Since the inception of the Safe Housing program in 2012, 58 grants have been awarded to domestic violence shelters for a total of $238,720.
RedRover is partnering with SAF-T to work toward the goal of having at least one pet-friendly domestic violence shelter in each state. Deadlines to apply for Safe Housing grants are May 15 and October 15 each year. To learn more, visit: https://RedRover.org/SafeHousing
More information about RedRover's domestic violence resources can be found at RedRover.org/Domestic.
• A white Maltese dog mix that had been dyed purple with human hair dye was severely burned and weakened, and the animal required three months of treatment including pain drugs, antibiotics, intravenous fluids and wound care, Pinellas County, Fla., Animal Services staff say. The dog has a new owner who says "it's amazing how she loves everybody and knows no strangers, despite how she was treated." If you want a colored pet get a parakeet.
•You wouldn't know it by looking at her now, but a KC couple's 7-month-old puppy Rottweiler almost died after she ate a bottle of Gorilla Glue.
Now, Theresa Sanders and Aaron Blake are just thankful for their energetic comeback.
"The Gorilla Glue apparently has a sweet smell that the dogs like," he said. "She went at it and had it so fast."
Veterinarian Philip Allen said, as a result of ingesting the glue, Lucy suffered a severe growth the size of a cantaloupe in her stomach. Allen said had her owners not brought in the puppy right away, Lucy would have been dead within a day.
In fact, Blake and Sanders said everyone was convinced Lucy wouldn't survive.
"Walking away from her and thinking she was not going to live was just awful," Sanders said.
The couple signed Lucy over to the veterinary clinic, posted their final farewells to their beloved pet on Facebook. However, the heart-sick couple had no idea that Allen, who has two dogs himself, refused to let Lucy go. Allen performed emergency surgery on the ill pup and removed the large mass from her stomach. By the next day, Lucy was out of intensive care and eating again.
Moral dog's and gorilla's shouldn't eat glue.