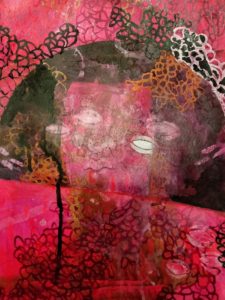 Metta National, (art in the dark) by Anna Karakalou with projection mapping by Panos Scourtis
Vita Art Center will turn the lights out to create a unique experience of art in the dark. Mulit-platform artist, Anna Karakalou will be exhibiting a fully immersive show at the Vita Art Center. Incorporating elements of traditional media, projection mapping by Panos Skourtis, digital painting and an introspective soundscape.
The shows previous iterations were seen in Labastide, France, as Efterpi and at the WAV Gallery as Inner National which was, unfortunately postponed to a one night only opening/closing due to the Thomas Fires.
Noting inner connectivity in a dark universe, Anna Karakalou paints colorful mirrors of recognition for us to see ourselves in. The images and portraits mirror the inner-self. The dark projection space of the exhibition map out the connection of the universe of all souls. -Marija Skara (Finnish Press)
Until Feb.23., Vita Art Center ,Bell Arts Factory, 432 N. Ventura Ave.