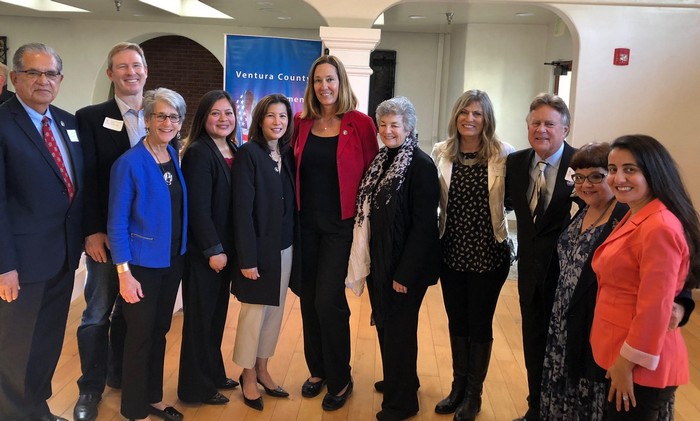 by Rosie Ornelas
On Saturday, January 27th, California Supreme Court Chief Justice Tani Cantil-Sakauye was the guest of honor at the Ventura County Women's Political Council Annual Meeting and Breakfast at Ventura's Pierpont Inn.  Speaking to a sold-out crowd of elected officials, judges, lawyers, students, and members of the organization, the Chief Justice described her journey as the daughter of immigrants, raised by a single mother. She entertained the guests with her witty, charismatic style, relaying lessons she learned as a waitress and a blackjack dealer, jobs she held during college and law school.
Answering questions from the President of the Ventura County Women's Political Council, Jeannette Sanchez-Palacios, Cantil-Sakauye explained why she decided to write a letter to Attorney General Jeff Sessions objecting to his policy allowing immigration enforcement to take place in courtrooms.
Chief Justice also explained why she decided to commission a task force to study the bail setting process in our judicial system, a process which she believes is based on economic status rather than the risk to the community. She has become a leading national advocate on reforming our bail system.
She is the 28th chief justice of the State of California. She is the first Asian-Filipina American and only the second woman to serve as the state's chief justice. In her capacity of Chief Justice, Cantil-Sakauye chairs the Judicial Council of California, the administrative policymaking body of state courts, and the Commission on Judicial Appointments.
"It was inspiring to have the Chief Justice of California come before our group" said Jeannette Sanchez-Palacios, VCWPC President. "Being only the second woman appointed to her position, Chief Justice Cantil-Sakauye is a prime example of what women can accomplish through tenacity and determination."
Among those who attended the event, top elected officials included Senator Hannah-Beth Jackson, Assemblymember Jacqui Irwin, Assemblymember Monique Limón, Presiding Judge Patricia Murphy, Judge Fred Bysshe and many other local elected officials from throughout the county.
The Ventura County Women's Political Council is a multi-partisan organization whose objective is to achieve equality for all women. It is the only organization in Ventura County dedicated to educating, training, and supporting women to run for office so that candidates can bring women's perspectives to every issue, foremost including reproductive health as well as social, educational, environmental and economic justice.