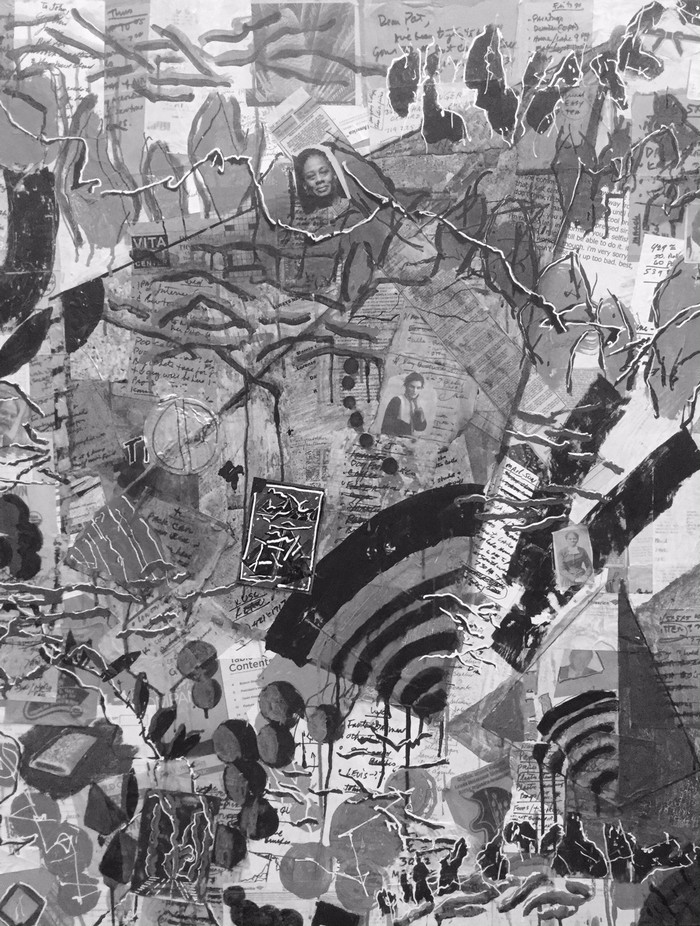 Rugged Tableau: Recent paintings and mixed-media works by John White; Topographies in stone by Paul Lindhard (Feb 11—Mar 18) Opening Reception: (Feb 11, 3 pm—6 pm) at the Art City Gallery.
John M. White is a painter, sculptor and performance artist. Some years ago, while living in Solimar Beach, White began looking at the detritus washed up on the sand: seaweed, driftwood, shells, etc. The resultant paintings were poetic and suggestive rather than descriptive. They established the foundation for the three series he has recently produced.
Considered one of the seminal California performance artists, White has staged hundreds of public performances since 1967, and is included in numerous public museum collections.
Ventura-based Paul Lindhard has been an artist, sculptor, studio builder, producer and patron of the arts for over 50 years. He has dozens of monumental scale permanent public and private installations throughout Western United States, with a majority of works in Ventura City and County. The artist is always questioning nature within stone, sourcing and collecting stone with an awareness of shapes stone moves through.
In the past two decades Paul Lindhard has made stone tables that invoke the landscape of their stone material origins. These tables are not flat or overly useful as tables. Their surfaces, edges and pedestals are shaped instead to optimize the beauty of each element. The artist has collected these pieces from remote, wild and rugged places. A second series has evolved from this practice. Lindhard has evolved miniature topographies presented on pedestals, preserving exotic weathering and texture on their uppermost surface while sides are carved and polished to expose rare and beautiful inner stone. These sculptures make a salient counterpart to larger dada-table pieces.
Art City Gallery, 197 Dubbers St., 648-1690. www.artcitygalleryandstudios.com.