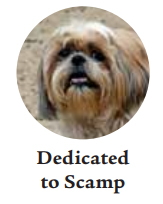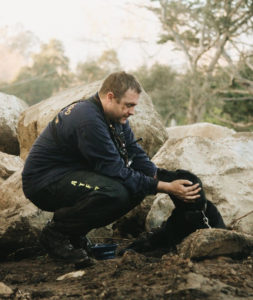 • After the deadly mudslides devastated Montecito 18 Canine Disaster Search Teams trained by the local Search Dog foundation returned home, exhausted but confident they completed their mission.
These incredible Search Dogs and Handlers searched tirelessly despite immense challenges with debris, rock and mud
Brent Brainard, Handler of Search Dog Decker stated "This is what we train for. This is what we are meant to do. It's never easy when you're dealing with a disaster of this magnitude, but Decker and I are in this together. We work as a team to be sure we give it our all. I couldn't ask for a better partner – I'm pretty sure I needed him during this deployment more than he needed me."
•By Monica White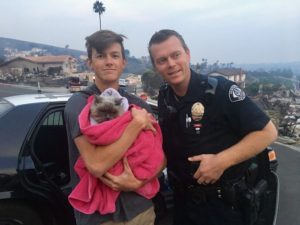 For some miraculous reason, our home in Skyline was spared during the Thomas Fire. As we evacuated, we were able to load up our two XL dogs and one of our cats. Azul, the outdoor cat was nowhere to be found. The next day and every day thereafter, my husband would drive back up to the house to put out food and water in hopes of finding our 11-year old Ragdoll kitty.
On the 4th day after the fire, the affected neighborhoods had been closed off with no access allowed. Officer Matt Thompson of Ventura PD was kind enough to escort us up to look one more time as we piled in the back of his police car.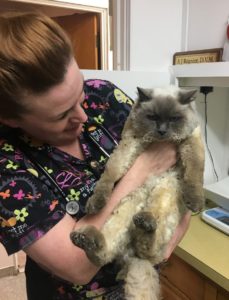 Words can't explain how thrilled we were to find Azul waiting for us in the backyard! With singed whiskers and blistered paws we immediately took him to Dr. Marianne at Ventura Veterinary Hospital. After two weeks of being loving tended and spoiled, Azul is now home, but not in the least bit interested in going outside. Thank you to Officer Thompson, Dr. Marianne and all the staff at Ventura Veterinary Hospital for making our family complete. You are our version of #VenturaStrong.
• by Victoria Usher
You have probably seen this classic of dog behavior: they tilt their head to one side while you're talking to them. It's such a universal behavior in dogs that you'd think science would have figured out the main cause for it a long time ago. Unfortunately, they still haven't, there are quite a few possible causes for dogs tilting their head. In a study carried out by Stanley Coren, who has a doctorate in psychology from Stanford University, it is explained that dog's muzzles block part of their vision and they tilt their heads to one side, so they can see our whole face. Another possible cause is that dogs tilt their heads when we're talking in order to reposition their ears, this not only allows them to hear us better but to more precisely locate where the sound is coming from. Two-way communication is another possible cause for the head tilt, in his "Handbook of Applied Dog Behavior and Training," dog behavior consultant and trainer Steven R. Lindsay calls it the social head tilt and describes it as something that occurs "in situations involving anticipatory excitement and intensified interest in the significance of the owner's vocalizations." A final possible cause for the head tilt is that we may have inadvertently trained them to tilt their heads by responding positively to it while they were young puppies. After all, while the dog's head tilt is a natural reaction, so is the human tendency to give affection to cute things and there's nothing cuter than a dog looking at you with a titled head.
New Mexico legislators are proposing a special tax on pet food to raise money for spay and neutering fees for dogs and cats, a measure aimed at reducing the population of unwanted animals in the state. This specific bill, which is sponsored by Reps. Carl Trujillo, D-Santa Fe, and Debbie Rodella, D-Española, would impose an increase on commercial pet food registration fees from $2 per label to $100 per label of pet food each year.
"This is either going to increase the price of dog and cat food or manufacturers are going to want to stop supplying these foods to New Mexico," said Laura Moore, owner of The Critters and Me pet store. Robert Likins, Vice President of Government Affairs for the Virginia-based nonprofit Pet Industry Joint Advisory Council, said that the bill "is a tax that may be in search of a justification" and will "disproportionately punish smaller businesses and less wealthy pet owners that are less able to absorb the cost." If the new bill becomes law, the state's Animal Sheltering Subcommittee would oversee the program and create guidelines for nonprofit groups, animal shelters, veterinarians, and euthanasia agencies to help needy New Mexicans who cannot afford the cost of spaying and neutering their pets. Murad Kirdar, spokesman for the Santa Fe Animal Shelter & Humane Society, said the shelter supports "all avenues to help the community get the proper access and care for pets, especially when it comes to spay and neutering services." The new bill has a five-year sunset clause designed to give state leaders time to see if the bill is successful. Several other states, including Maine and Maryland, have passed similar legislation to raise funds for spay and neutering services.