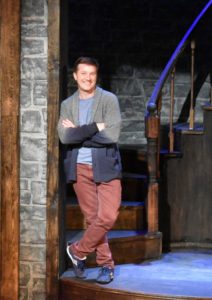 by Shirley Lorraine
Facts meet fiction for fun at Rubicon
And now for something completely different…. Buyer & Cellar now playing on the Rubicon stage mixes it up with a few facts, a lot of fiction and an evening of laughter. A solid hit from New York to Los Angeles, the Rubicon embraces the unusual concept with open arms to spread the joy to Ventura audiences.
The play centers around the true fact of a celebrity, Barbra Streisand, well known for her eccentricities, who has created a shopping mall in the cellar of her Malibu home to showcase her many collectibles. Shops include an antique clothing store, a doll shop, a sweets shoppe (the second e is required), and more. Author Jonathan Tolins was so taken with Streisand's 2010 coffee table book titled My Passion for Design which features the mall, that his imagination soared with creativity around the subject.
Tolins then expanded the idea to include a huge what if. What if a frequently unemployed actor was hired to be the lone employee at the mall? His only "customer" would be Babs herself. The occasional interplay between the two then builds into an unlikely and quite humorous relationship. The resulting one-man show is a tour-de-force performance skillfully and effervescently executed by Brian McDonald.
Directed by Stephanie A. Coltrin, McDonald takes off in a frenetic, fantastic performance as Alex More, the actor, who delivers non-stop action and energy for close to two hours without an intermission. McDonald as More tells the audience right up front that he doesn't do impressions. However, he does give rich dimension to a plethora of characters critical to the story, as well as La Streisand herself.
McDonald never misses a beat as he describes and demonstrates his "job" in the mall at a steadily quick pace. Imagine a meld of Robin Williams and Sean Hayes mixed with much McDonald. Adding to the fun are numerous show business and performance references. See how many you can catch. It is easy for the audience to get caught up in his excitement as he relates the events that could be occurring in the mostly solitary environment.
Woven into the story are lessons to be learned about the things we all accumulate as we go along and what is truly important in the big picture that is life. Especially now, in the wake of the Thomas Fire, the Montecito mudslides and other local carnage, laughter is a necessary form of healing for us all. This production and performance provides a welcome relief.
A picture-perfect and exquisitely appointed set designed by Mike Billings completes the illusion.
This reviewer's recommendation – settle into Ms. Streisand's lovely environment and enjoy the humor, the whimsy, the reflections and a superb performance.
Buyer & Cellar plays Wednesdays to Sundays through February 11 at the Rubicon Theatre Company, 1006 E. Main St. (corner of Main and Laurel Streets) in downtown Ventura. Matinees: 2 p.m. Wednesdays, Saturdays and Sundays. Evening performances are at 8 p.m. Fridays and Saturdays, 7 p.m. on Wednesdays and Thursdays. Wednesday January 31 and February 7 performances will be followed by a talk-back session with the cast. Tickets: $30-$55. The box office is open 7 days a week. There is 24-hour ticketing and seat selection online at www.rubicontheatre.org. (805) 667-2900.