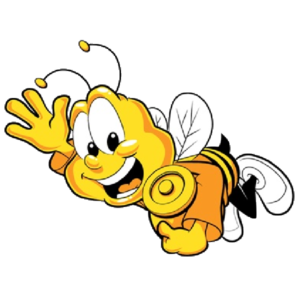 The City of Ventura's Public Art Program, in collaboration with artist MB Hanrahan, is excited to provide the community an opportunity to participate in an upcoming permanent public art installation, "Bee Cause" at the Barranca Vista Center, 7050 East Ralston St.
Through a series of workshops, the community will assist in transforming hubcaps into beautiful flowers on metal mesh with bee sculptures among flower patches that creates awareness around the plight of the North American Bumble Bee. This project is funded in part by the California Arts Council Artists Activating Communities and the City of Ventura. The California (CA) Arts Council's Artists Activating Communities program was designed to demonstrate that the arts are a central component of civic life and that artists are vital in shaping society. Artists work closely with organizational partners and community members to produce creative projects that are tailored to the community. The CA Arts Council recognizes that arts are a societal cornerstone that brings people together, builds community, and fosters social progress. The public is invited to attend the following workshops and "bee" a part of this unique opportunity:
Vita Art Center-432 N. Ventura Ave.
Workshop will be held during the Friday Night Teen Program (12 and up)
Friday, February 2, 6-9pm
No fee.
Barranca Vista Imagination Center
(12 and up)
Wednesday, January 31, 2018, 4-7pm
$15 fee
Museum of Ventura County
(12 and up)
Saturday, March 3, 2018, 12-3pm, in the Plaza
$15 fee
To RSVP or for more information, please contact the City of Ventura Public Art Project Manager at 658-4759 or [email protected]. All proceeds and donation will go towards the Bee Cause project. All supplies will be provided at the workshops.