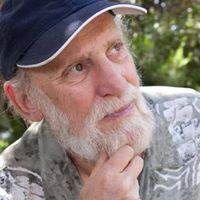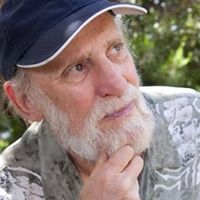 • The Thomas Fire, which began more than six weeks ago and became the largest wildfire in modern California history, is now fully extinguished. The blaze consumed 281,893 acres in both Ventura and Santa Barbara counties, destroyed 1,063 structures, most of which were in Ventura.
Infrared and helicopter sightings did not locate any active flames or heat in the fire area after the rainstorm.
Even though the Thomas fire is now completely out it is really difficult to feel good because of what has happened to our neighbors and friends in Montecito, where about 25 people have died from mudslides.
We all feel very attached to Montecito, as many of us go there to have dinner or to walk around their wonderful downtown. After visiting the Santa Barbara Zoo, many people drive through Montecito to get on the freeway.
This is a town of only about 10,000 residents, so the financial and personal impact on the city is overwhelming.
Roy Rohter, who founded St. Augustine Academy in Ventura, died in the mudslide. Ironically, Rohter's daughter graduated from Thomas Aquinas College, from which the name Thomas Fire came from.
Sadly, many residents had received voluntary evacuation notices but decided to stay. I'm sure with future potential disasters, authorities will deliver many more mandatory evacuation notices. Some people, in mandatory evacuation areas, refuse to leave. The answer may be to always err on the side of caution and leave whether voluntary or mandatory.
We were all happy when 2017 ended and were looking forward to a new start in 2018, and then this tragedy happened. When people ask me how I am doing, I find it is difficult to say, "I'm doing well" even though these dual tragedies has no serious direct impact on me. But the loss of many friends' homes and the deaths in Montecito makes it difficult to feel very good these days.
• There are many Venturan's complaining and wondering why there was not adequate water while fighting the Thomas fires. We must remember that this was the largest fire in the recorded history of California. It would be almost impossible or economically feasible to prepare for a fire of this magnitude. We are attempting to find out exactly why this occurred and what future solutions might be.
This would be a similar event to experiencing 30 inches of rain in 24 hours. It would be impossible to prepare for that type of scenario also.
• Reminding you that Harrison customers can get four free bulky item pickups each year.
• Impossible to believe that even this President would use the term s—hole to describe other countries. 41% of immigrants from the s—-hole country of Africa who are over 25 years old have bachelor's degrees compared to 32% of US born citizens. And, 16% have master's degrees or above compared to 11% of US born. Both percentages are higher than immigrants from Norway.
• Conspiracy 101: First "they" caused and controlled the Thomas Fire and the winds that spread it. Then, "they" seeded the clouds by contrails and caused the heavy rains which resulted in many deaths. Who are "they"? We are not sure but the rumor is "they" are a group of 12 that control the entire world, including perhaps 2 Martians. What "they" gain from this is not clear.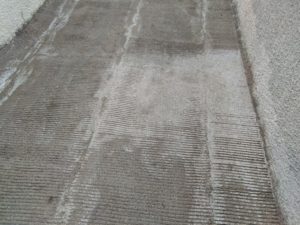 • We are all happy that the construction on the freeway overpass at the end of Ash is now complete. But the workmanship is deplorable. I mistakenly thought that this was a City of Ventura project and complained to the wrong people, but it is a Caltrans project. I am attempting to find out more from Caltrans about who the contractor was and if they have been paid. The concrete work is awful, and the handrail looks as if it was installed by someone who had been drinking too much.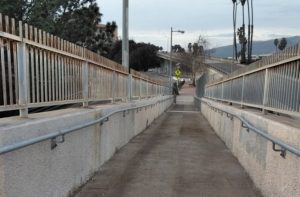 And, it's hard to believe that painting of the overpass wasn't included in the Caltrans contract. I've been in contact with our City Council and hopefully, even though the bridge is not owned by Ventura, can have it painted as it certainly reflects on Ventura.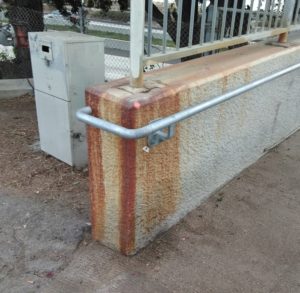 • The Ventura County Board of Supervisors has stated their opposition to new offshore oil and gas leases in the Pacific Ocean. This is based on the announcement by Secretary of the Interior, Ryan Zinke, that the federal government plans to open up the Pacific coast to new oil and gas drilling for the first time in 30 years. The plan was made possible by President Trump's April 2017 executive order opening up the offshore plans already in place.
This is a bad idea for many reasons, one being the fact that we now have a glut of oil in this country and do not need further ocean drilling. No company has shown any interest in doing this.
• As reported on some news outlets, "Blaze Bernstein, a 19-year-old Jewish student at the University of Pennsylvania who went missing from his parents' Southern California home, has been found dead." What the h— does the fact that he is Jewish have to do with this tragedy? Would it have been reported that "Blaze Bernstein, a 19-year-old Presbyterian student" or "Blaze Bernstein, a 19-year-old Catholic student" was dead? Of course not.
The sad part is that his death is being investigated as a homicide and his friend that he was with has been arrested as a suspect in his death. The religion of his friend was not reported.