• SPAN Thrift Store is providing $10 spays and neuters for low income cat and dog friends.
In the SPAN Thrift Store parking lot 110 N. Olive St. (behind Vons on Main) Friday, February 2nd.
Please call to schedule an appointment 584-3823.

• The Spirits Car Club of Ventura recently held the Splinter Nationals event with proceeds going to Canine Adoption and Rescue League (CARL) and Ventura County Animal Services (VCAS). On Sat., De. 30th a few of the members presented Mary Saputo, CARL's president with a check from the event. Also present was Sharon Clark, Executive Director, staff, a few volunteers and 2 CARL mascots, Ava the Chow and Bruno, the American Staffordshire/Terrier mix.
Please visit the CARL website for more loveable, adoptable dogs at carldogs.com
• In our last issue we inserted some wrong information in this article so here it is corrected.
by Jim Reilly President National Police Dog Foundation
Another exciting and challenging year is almost over, and with your help, we are already planning and working on projects for next year.
2017 has been a wonderful growth year for us, but with growth comes challenges. Our efforts to expand and become a meaningful national foundation for police K-9s has become a reality. Some new 2017 sponsors include national corporations such as Purina, McDonalds, and Petplan.
Thanks to our new marketing efforts and sponsors, our services are now reaching into even the smallest police departments across the country. While this is good news, and our fundraising efforts have grown, unfortunately so have the requests for financial assistance from these departments.
We need your help. We still have a shortfall in 2017 of $28,000, and desperately need to raise funds by year-end to fulfill emergency K-9 medical requests.
In planning for the 2018 needs of our nationwide police departments, we anticipate having to fund the following requests for assistance:
– Purchasing: 10 grant requests for new police K-9s
– Training: 20 grant requests for police K-9s and handlers
– Medical: 20 grant requests for medical assistance and emergency veterinary care
– Retired Medical: 10 grant requests for retired medical care
– Health Insurance: In 2018, we hope to grant at least 10 annual Police K-9 health insurance plans
– Heat Alarm: In 2018, we hope to save even more K-9 lives and give out 10 police vehicle heat alarms grants
While it is gratifying that agencies have increasingly come to rely on the National Police Dog Foundation to help provide for their needs, it is daunting to come up with the necessary funds to respond to the ever-increasing requests of these agencies. If our forecast holds true, we will need to raise over $270,000 in 2018 to meet expected needs.
And so we turn to you, our friends, to help these amazing K-9 heroes. We need your help in this time of need to ensure the safety of our communities. In addition, please keep NPDF in mind when creating your estate planning. If you need help with this, please contact us.
Most of the Police K-9's deeds of valor go unreported, much less remembered. Often times, we are their only voice. Please look into your heart to see how you can help. Your generous, tax-deductible donation is greatly appreciated and will go directly to support Police K-9s.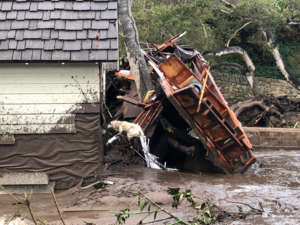 Thank you for allowing me to share our needs with you. To donate please go to nationalpolicedogfoundation.org, as every dollar helps. The National Police Dog Foundation is an all-volunteer foundation ensuring your donation is applied entirely to the benefit of Police K-9s.
• Just over 48 hours after a wall of mud and debris slammed into homes in Montecito there were 16 SDF(Search Dog Foundation) trained Canine Disaster Search Teams in action around-the-clock searching for survivors. The Search Teams, along with their Task Force teammates from throughout California, continue to comb the debris and slog through the mud to ensure that no one is left behind.
Monday afternoon, prior to the mudslide, Search Dog Foundation-trained Search Teams Eric Gray & Riley and Wade Haller & Rex staged for deployment as heavy rains were expected to soak the recent Thomas Fire burn areas in southern Santa Barbara County. After the mudslides destroyed several homes and pushed debris across Highway 101, all the way to the ocean, the teams went to work searching for survivors.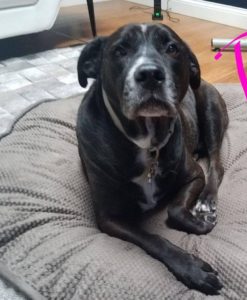 • Mojo needs immediate surgery to repair his badly injured right hind knee hurt during the Thomas Fire evacuation. Two years ago Mojo's buddy Shalisa suffered a debilitating equine accident. During eight challenging years taken for her recovery, Mojo kept Shalisa going with unconditional love and constant companionship. Because of unrelenting financial demands during her recovery, Shalisa now lacks funds for Mojo's surgery for his right leg and to stabilize his left leg. Dr. Holsworth, at Vet Surg in Ventura, evaluates Mojo as being in the prime of his life and most capable of making full recovery. Buddy Nation, a Ventura non-profit is helping Shalisa raise funds. Those who know and love Mojo will be forever grateful for whatever donation you can make. https://www.gofundme.com/surgery-fund-to-save-mojo.