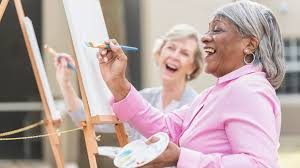 by Connie Perez
Family Caregiver Resource Center Catholic Charities(OASIS)
As we enter a new year, we also start planning and preparing ourselves on how we can achieve our goals. Whether it's a buddy system such as going to the gym or finding other ways that help us in trying to achieve before the next year approaches. Here are some tips on achieving those goals:
1. Develop a plan – Discuss mobility, assistive devices, if needed, especially if an elder would like to take walks daily. Talk about the time of day they may feel at their best to help them reach their goal.
2. Create smaller goals – It can become frustrating to start running instead of walking first. Set goals that are manageable then build from that
3. Willingness to change – Discuss the possibility of having to modify their goals if it becomes too difficult due to set backs under circumstances we cannot control.
If your loved one is in need of an assistive device, home modification or other resources, please give the Family Caregiver Resource Center a call at 420-9608.