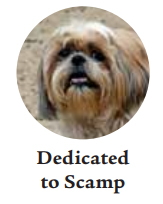 • www.missingpetpartnership.org is a good place to help with your missing pet.
• Some veterinarians are offering their services for free during these times for our displayed and for pets without a home to call their own. Check with your vet to find out.
• by Jennifer Tipton
On Thursday, Dec. 7th I visited the Ventura County Fairgrounds located at our beautiful Seaside Park, one of three shelters set up by the American Red Cross.
People weren't the only ones being cared for, there were about 150 horses in the stables and in a separate building, managed by American Kennel Club Pet Disaster Relief, they housed about 150 dogs, 150 cats, birds, guinea pigs, hamsters and one very large desert tortoise. Carmen from Ventura County Animal Services said they had taken in a total of 703 animals! The animals appeared very well cared for, each in crates covered with blankets for a sense of security and the dogs were being walked twice daily. "The animals will be cared for until the owner comes for them, if no one comes, they are transferred to the Camarillo Animal Shelter where we will phone, email and send letters to contact the owners, after 10 days, if no one comes for them, the animals will be put up for adoption", Carmen said. The Camarillo shelter is a "no kill" shelter, one of the largest in So. California.
• Canine Adoption & Rescue League has a boarding kennel/sanctuary in Santa Paula. In the first days of the fire they sheltered 50 of SPARC's (Santa Paula Animal Rescue Center) dogs and 8 of Santa Paula's pets.
"This service was offered at no cost to the organizations, although considerable expenditure on CARL's part. All the dogs were well and safely cared for and "weathered" the experience well. "stated C.A.R.L. President "Mary Saputo."
The organization welcomes and relies on the generosity of dog welfare advocates to continue its mission. To learn more about C.A.R.L., how to donate, how to adopt, or how to volunteer, visit http://www.carldogs.org or call 644-PETS.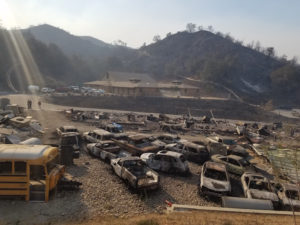 • The National Training Center (NTC) campus, at 6800 Wheeler Canyon Rd., Santa Paula lost much, but not all of their buildings.
All of their main buildings – the Welcome Center, Handlers' Lodge, Canine Pavilion and Caretaker's Quarters – were unscathed, as were the Showgrounds, Canine Memorial Wall, and Guardian Glade.
The train car at the top of the Train Wreck prop was burned and will no longer be usable and, sadly, the historic Boone's Cabin, containing relics from over one hundred years of history is completely gone.
They stated "We look forward to having you continue on this journey with us as we get back on our paws and continue fulfilling our mission of strengthening disaster response in America."
SDF Headquarters 6800 Wheeler Canyon Rd., Santa Paula, CA 93060 888-4K9HERO.
---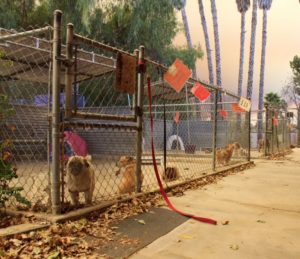 The Humane Society of Ventura County has taken in hundreds of animals displaced by the Thomas Fire. The animals, being housed at the HSVC's Ojai shelter, all are safe and in good shape, but funds are critically needed to maintain their care, as the evacuations wear on and the animals have nowhere else to go.
"The shelter has been staffed 24/7 since the fire began on Monday night," said Greg Cooper, the HSVC's director of community outreach. "Donations are pouring in and are greatly appreciated, but the need is monumental and ongoing."
The HSVC has set up a donation link on its website so all funds go toward Thomas Fire Relief:
To donate: go to hsvc.org/thomasfire.
To volunteer: Email Amanda Volden at [email protected]
To drop off food and supplies: Go to the Ojai shelter, at 402 Bryant St.
For additional inquiries: Email Greg Cooper at [email protected]
---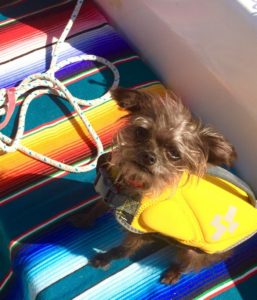 As told by Finnegan – Quartermaster of the Luna Sea to Jennifer Tipton
My name is Finnegan and I am 2 years old. I was rescued from the Ojai Animal Shelter October 10, 2017 by Lisa Barrick and Shawn Taylor. Lisa and Shawn had sold just about everything they owned to buy a 43-foot Hunter Sailboat they call the Luna Sea. It's been their home in the Ventura Harbor since 2016 and now it's my home too.
On Monday night, December 4th, strong Santa Ana winds started up and we were rocking quite a bit, I could hear the halyard lines slapping up against the main sails, it sounded like a halyard symphony! Then all the power went out and we popped up topside to have a look, with all the pitching and yawing,
Captain Shawn insisted I wear my personal flotation device in case I got tossed overboard. We noticed that all the lights in the Harbor were out and it was very dark, but we still didn't know there was a fire until morning when Captain Shawn and First Mate Lisa could see the flames at sunrise. By then, there was a heavy layer of smoke hovering over the harbor, ash falling and a lot of dust from the fields across the way.
Our boat neighbors told us that many owners of the boat slips here invited evacuees from the fire to stay on their boats and the Marina's office manager allowed many others to stay in the parking lot in their RVs.
By Friday, December 8th, it felt calm, but there was still heavy smoke in the air, so we stayed indoors. We did get a lot of debris in our slip like burnt pieces of wood and tree limbs, but we felt safe because we were surrounded by nature's fire retardant!