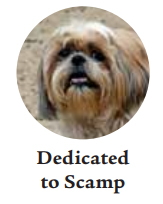 •  Purrs & Paws Holiday Boutique returns to Ojai for the Sixth annual Humane Society fundraiser slated for Dec. 16. Over 30 vendors will offer a vast variety of holiday gifts for people and pets, at the Humane Society of Ventura County's holiday boutique.
The boutique will be open from 9 a.m. to 4 p.m. Saturday at the Chaparral Auditorium in Ojai, at 414 E. Ojai Ave. Newly added this year is a Vintage Market, on the lawn next to the auditorium.
All proceeds from this fundraiser will benefit the nonprofit HSVC.
With over 5,000 supporters, and marking its 85th year, the HSVC is committed to making this holiday market the best one yet. New and returning vendors will be featured.
Admission to this family-friendly event is free and open to the public.
For more information, contact Heather Rowe at [email protected] or 646-6505.
• The Teague Mansion in Santa Paula is the venue for Santa Paula Animal Rescue Center's (SPARC's) gala fundraising evening on December 8. The themed event is a 1930s murder mystery, featuring a theatrical production with plenty of intrigue. All proceeds from ticket sales and the silent auction will go toward medical costs and daily care of the animals at SPARC.
The evening includes a light buffet supper, beverages and a theatrical murder mystery filled with fun and drama. Tickets are $125 per person and can be purchased at http://bit.ly/2hF4KdC (Eventbrite link).
Many people are unaware that being a "no kill" shelter adds a high cost to running a shelter, since every animal, no matter how sick or injured, receives appropriate vet care. Every effort is made to give the animals a second chance at life at SPARC.
SPARC's cost to run a "No Kill, No Excuses" shelter is $1.4 million per year; the city of Santa Paula contributes just over $100,000 of that. SPARC relies on grants and donations from the public.
Medical staffing and veterinary care alone is around $500,000, so it is vital to have the support of people who believe in the no-kill mission by buying their tickets to the 1930s murder mystery event and supporting other SPARC fundraising efforts.
• The FDA says it has received about 68 reports of pet illnesses, and even deaths, related to bone treats. Some of the reports involved more than one dog; a total of about 90 animals have been affected.
About 15 dogs have died of the illnesses, the agency said.
These treats differ from uncooked, butcher-type bones because they are processed and packaged for sale as dog treats. The products may be dried through a smoking process or by baking, and may contain other ingredients such as preservatives, seasonings or smoke flavorings.
Different types of bone treats for dogs, including treats described as "Ham Bones," "Pork Femur Bones," "Rib Bones," and "Smokey Knuckle Bones," were listed in the illness reports.
"Giving your dog a bone treat might lead to an unexpected trip to your veterinarian, a possible emergency surgery, or even death for your pet," stated Carmela Stamper, a veterinarian in the Center for Veterinary Medicine at the FDA.