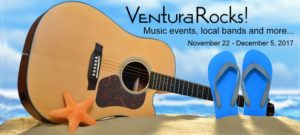 by Pam Baumgardner
VenturaRocks.com
The holiday season is in full swing with Ventura looking as lovely as ever with music keeping us as lively as ever. To start off with, it's the "social event of the year," Ventura Winter Wine Walk and Holiday Street Fair on Saturday, December 2. The holiday street fair is free and runs from Noon until 8 pm; the main stage of music is also free and located at the corner of Main and California with City Hall as the backdrop. The bands rockin' the event this year are the Road Brothers, Adelaide and the Bomb. Then of course it's the Wine Walk (21 and over) which typically sells out every year; it runs from 4 until 7 pm.
Squashed Grapes is hosting a fundraiser for the local chapter of Notes for Notes on Saturday afternoon, December 2, from 1:30 to 4:30 pm with two acts on the bill. Firstly, it's the East Valley Road band featuring Notes for Notes students who are raising funds to help them get to a Blues competition in Nashville, and then it's Patrick Warburton's band called The Bearded Pearl Clams featuring Pearl Jam tunes. Yes, you read that right, it is that Patrick Warburton of Seinfeld and Rules of Engagement fame. It's all about raising awareness about this amazing program available to our up and coming young musicians here in Ventura where they have a state-of-the-art recording studio available to them and soon a mentoring program featuring a Master's program with key local musicians. You can learn more about this non-profit organization at NotesForNotes.org.
The Surfrider Foundation's 8th annual Pints Against Plastics benefit will be held at Discovery on Saturday, November 25th, with Through the Roots and Rising Son providing the reggae. The fundraiser is for litter prevention efforts for Ventura County beaches and rivers. Find out more at Ventura.Surfrider.org.
Quick notes: Kick off the holiday weekend with pre-Thanksgiving fun on Wednesday night, November 22, with Yachtley Crew at Bombay's; Nathan McEuen returns to town with a show at Grapes and Hops on Friday, November 24, with what he calls Nathan McEuen and the Enormous Ego Band; there's a Numbskull Productions show at the Garage with Captured! By Robots on Friday, November 24; catch The Tenderloin and Spivey Spi at Duke's on Seaward on Friday, December 1; the Old Time Country Music Christmas concert will be held on Sunday, December 3, at the Poinsettia Pavilion; and just released, the soundtrack to the documentary featuring local blind musician, Rachel Flowers, "Hearing is Believing."
And finally, Ray Jaurique and the Uptown Brothers are working on their second release. Ray told me he's penned ten or eleven new songs and that this one will include some special guest players; they're working out of Castaway 7 Studios here in Ventura.
Do you have any music-related news or upcoming shows you want help publicizing? Please send all information short or long to [email protected], and for updated music listings daily, go to www.VenturaRocks.com.