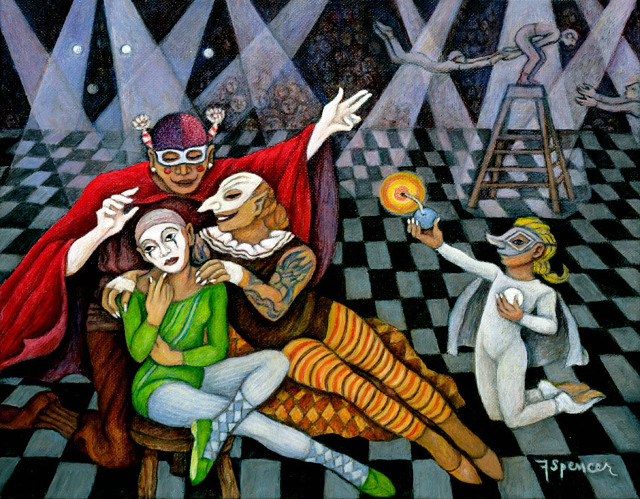 Award winning artist, Frances Spencer, invites everyone to a solo exhibit of her art at the WAV (Working Artists Ventura) theater gallery, January 5-26, 2018. The Opening Reception is on First Friday, January 5th, 6-9 pm. Free to the public. Funding has been made possible by a Puffin Foundation grant.
The centerpiece of the exhibit, "War and Peace: Diptych," illustrates the theme, Peace and Love Will Save the World. Spencer has won many national awards and ribbons including first prize for a block print at the Ventura County Fair. Her large painting, "Jazz Club," was the cover illustration for the summer concert series, Music Under The Stars, in 2011. Her solo show, "The Visionary Art of Frances Spencer," was on display at Ventura City Hall during summer of 2014, and chosen for a special showing by the Art Walk committee.
Frances is also a playwright, whose plays and musicals have been produced professionally and on college campuses in the San Francisco Bay Area and locally. Her screenplay, "The Ant Colony," was a finalist in Hollywood's Shriekfest Film Festival in 2010 .
WAV Theater Gallery 175 S. Ventura Ave.