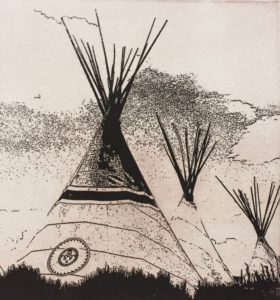 The inkspots of San Buenaventura, Ventura County's only fine art printmaking group will be exhibiting their new works at 643 A Project Space. Come meet the artists at the opening reception Friday November 3rd 5 to 8pm at 643 Ventura Ave.
The exhibit titled "ImPRESSive" will showcase work by artists Christina Altfeld, Karen L. Brown, Beverly Decker, Virginia Furmanski, Rosemarie Gebhart, Judy Gibbs, Bay Hallowell, Tiger Huang, Colleen Kelly, Ines Monguio, Minga Opazo, Jane Peterson, Leslie Plimpton, Betsy Quinn and Monica Wiesblott.
A free drawing for their annual folio project will take place at the reception that includes a signed and numbered print by fourteen artists in the group.  Three additional folios will be offered for sale.
A series of special events will be taking place at the gallery each Saturday of the exhibition:
For more information please contact Leslie Plimpton [email protected] or call
850-8848. inkspotsventura.com.