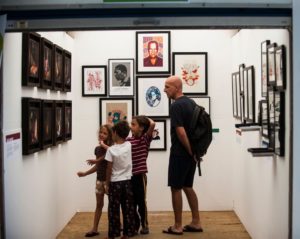 If you love art, you won't want to miss ArtWalk Ventura 2017. ArtWalk Ventura is one of Ventura's signature events, drawing thousands every year. Run by an all-volunteer group, this weekend event is fresh and festive and focused on Ventura's authentic cultural community. Now in its 24th year, ArtWalk Ventura is a fun, virtually free, self-guided tour of dozens of galleries, studios, pop-up venues and transformed PODS Containers in Ventura's Westside Cultural District and historic Downtown.
Free the 3rd Annual ArtWalk Collector's Reception will precedes ArtWalk. On Wednesday, Oct 4 from 6-8pm, the City of Ventura and the Museum of Ventura County will host the reception for a preview of juried works by 2017 ArtWalk featured artists. Hosted in the Smith Pavilion at the Museum of Ventura County, selected works will be on display from all ArtWalk venues. The event will begin with the Mayor's honoring the 2017 ArtWalk Ventura Artist of Distinction Maribel Hernandez and Global Artist of Distinction Shamsia Hassani. The evening will include music, hors d'ouevres and a no-host beer and wine bar.
Also returning is the Bowl Hop, a unique fundraiser where you can buy a beautiful, hand-crafted Bowl Hop bowl and receive a punch card that allows visits to participating restaurants during the weekend for a delicious sampling of their cuisines! A Bowl costs $25, with all proceeds benefiting Downtown Ventura's Family Reconnection Program, which has helped nearly 150 needy.
ArtWalk Ventura provides a free shuttle pick-up is at the parking lot entrance to the Museum of Ventura County .The shuttle goes from the Museum to Bell Arts Factory, dropping you within a block of Stoneworks Studios. The shuttle then heads over to Art City on Dubbers Ave and then to the WAV before it returns to the Museum.
For more information, directions and maps please visit www.artwalkventura.org.