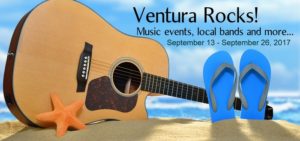 by Pam Baumgardner
VenturaRocks.com
The California Beer Festival with three days of events highlighting and celebrating that delightful beverage, the beer, is back! First, there's the popular "Food and Pairing" event held up at City Hall on Friday, the 15th where local chefs pair with local breweries topped off with live music by Victor Vega and The Bomb. Then on Saturday, the 16th, it's the Craft Beer Heaven at Plaza Park with live music from Adelaide, Yachtley Crew and DJ Cue. And finally, the Boots & Brews Country Music Festival takes place Sunday in the same location featuring the young guns of Country with Michael Ray, Chris Lane, Russell Dickerson and Highway Starr. Find out more about parking, times, and tickets at CaliforniaBeerFestival.com.
The 24th annual Bowlful of Blues returns to Ojai's Libbey Bowl on Saturday, September 16. There are both VIP and general admission tickets available for this one which features Nathan & the Zydeco Cha-Chas, Morganfield Burnett & Da Blues, The Gypsy Blues Band, Raw Silk and Cody LePow. Check out BowlfulOfBlues.org for ticket and information.
A number of local musicians will be performing The Beatles' Rubber Soul in its entirety at Poseidon Brewery on Saturday, September 16. Who could possibly pull this off? That would be Zeke Berkley, Austin Knecht, Owen Bucey, Steve Ming and Brian Bingelson.
If you love rap, then don't miss the "Over Worked & Under Paid Tour" with Lil Wyte (Three 6 Mafia), Los Ghost, White gold and Denim White. The US tour will make a stop in Ventura at The Garage on Saturday, September 23.
There are a number of benefits for specific causes that you're invited to help support. Let's start with the fundraiser for the Ribbons of Life Breast Cancer foundation at Buena High School with a concert from Paperback Writer, a Beatles tribute band, on Saturday, September 16. Tickets are $25 at the door. Grapes and Hops is hosting a fundraiser for Project Understanding on Sunday afternoon the 17th, 1-5 pm, with the Salty Suites, the Angry Brians and Vox Box Six. There's a fundraiser for Ventura High's water polo team at Discovery on Sunday, September 17 with Nucklehead, tickets are $12 the day of the show. And you won't want to miss the 3rd annual Taste of Local at Olivas Adobe on Sunday, September 24, which offers music from Bryan C Tutus and the Dan Grimm Band, proceeds benefit the Totally Local VC Agricultural Education Foundation.
Quick Notes: The September Swing Big Band Dance with Ventura Jazz Orchestra will be on Friday, September 22, at Poinsettia Pavilion. Ventura Theater has Jimmy Eat World and Man with a Mission on Thursday, September 21; and Gov't Mule on Saturday 9/23. Four Brix has Sista Blues with Deb Ryder, Shari Puorto and Kelly Zirbes on Saturday, 9/23. Rock on the Dock continues every Saturday (3-6 pm) in September with Freedom of Expression (reggae) on the 16th and Live Wire (rock party favorites) on the 23rd.
Do you have any music-related news or upcoming shows you want help publicizing? Please send all information short or long to [email protected], and for updated music listings daily, go to www.VenturaRocks.com.