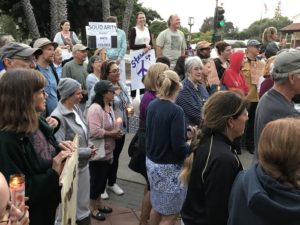 A vigil was held in Ventura's Mission Park Sunday evening, August 13th, in memory of three people who died and the 19 others who were injured during recent White Supremacist protests in Charlottesville, Virginia. The vigil also condemned the violence and intolerance expressed by the"Unite The Right" activists.
John Golson, who swiftly organized the demonstration in Ventura, said "We must stand, we dare not be silent when hatred acts in bold disregard of decency and compassion."
Participants at the event agreed. They were highly motivated to stand together in condemnation of the reprehensible violence, displays of Nazi and Confederate flags, the shouts against Jews, blacks, and gay people, and the raised-arm Nazi salutes that had been featured days earlier at the "Unite the Right" demonstration in Charlottesville.
In Ventura, the "Stand with Charlottesville" rally attracted nearly two hundred people who held candles and signs calling for peace and equal justice in the wake of the Charlottesville tragedy. Many voiced disgust at the fact that Americans had not already completely abandoned the deplorable agenda of such hate-based groups.
Passers-by were very supportive, many honking their agreement and waving to the demonstrators. Musicians played and speakers called for peace and understanding among all Americans. Participants were invited to come up and share their thoughts or prayers about the recent events.
Nationally, hundreds of similar rallies took place. Locally, Ventura was not alone — Camarillo, Ojai, and Thousand Oaks also held vigils —all with the purpose of declaring that hate, racial and religious intolerance, and violence has no place in our county or in our nation.