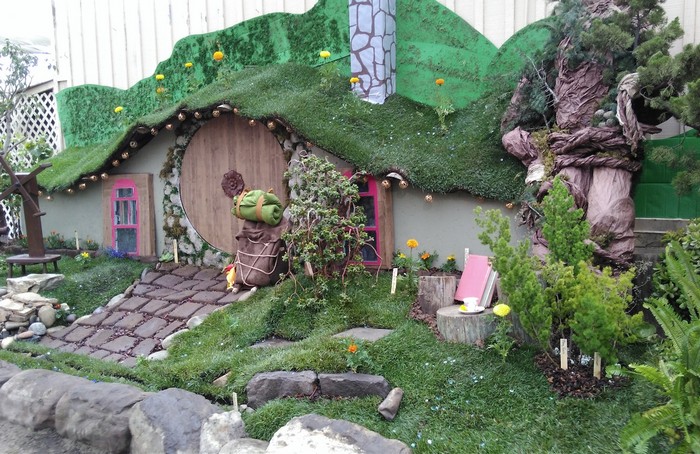 Bilbo's hobbit hole from the fantasy novel The Hobbit.
by Karen Helen Szatkowski
Often a favorite venue of fairgoers, the 2017 Ventura County Fair Floriculture Display met the challenge of prior years and has been an educational powerhouse as well. Propagating, growing and maintaining the huge variety of decorative plants that we, here in paradise, can enjoy throughout most of the year.
I took special note of an award winner that brought to life the setting of Bilbo's hobbit hole from the fantasy novel The Hobbit by J.R.R. Tolkien. This garden was put together by the congregants of the Calvary Chapel Ojai Valley Church. Pastor Nelson stated that this effort reproduced a setting the church had built for member children that is enjoyed by all.
It is difficult to choose between the gardens and assign the level of premiums for each division. Everyone is a winner. That is accomplished by the Floriculture Department of the Ventura County Fair Superintendent, Barbara Schneider and Assistant Superintendent, Sue Diller. These women have been on this mission and carried this responsibility for decades.
There are 61 divisions spread over such items as potted plants; arrangements; collections, roses and dish gardens. They range from school exhibitors to plant clubs. Commercial entities have their own divisions, and there is also an entire set of divisions for junior entries. One division is even assigned for individual amateurs and another for condo gardens.
Barbara and Sue stated, "For those Ventura County people that enjoy mucking around in potting soil, fertilizer, bug spray and the like in order to admire the beauty in nature, it is highly recommended that you should bring it to the Fair!"
For further information visit https://www.venturacountyfair. org/floriculture/