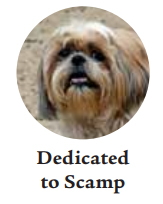 •  At the end of a road
By Mary-Jo Murphy
"Does anyone want a dog? Tim's going to shoot that Border Collie."
I was on a road trip, 40 miles off Highway 80 in Nevada, wandering around a historic site where Mark Twain had tried his hand at silver mining. The woman was delivering mail and an opportunity that changed my life.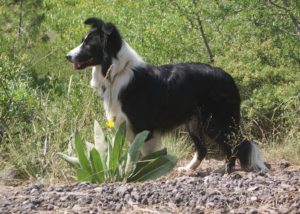 Tim lived in a run-down trailer. Tragically widowed months before when his wife died in an off-road vehicle accident, he already had two Border Collies when his stepdaughter abandoned another. Tim's work took him away for days at a time. The one-year old pup was more than an inconvenience, and it was clear that arranging a rescue was beyond this grieving man.
Another dog was the last thing on my mind. Back home, I had only Karl, a Shepherd-Pitt Bull mix. I was in no hurry to fill the emptiness left by Pumpkin, a goofy, willful Labrador.
I can't be responsible for every dog in trouble, I told myself as I reluctantly made my way across the dirt road, biscuit in hand. I was prepared to resist. After all, not all dogs are a match.
Approaching the chain-linked enclosure I noticed her nose was bloody. Tim explained, somewhat annoyed, that the doomed dog had just gotten into the garbage. I concluded she had found the trash preferable to the contents of her food bowl, a combination of unnatural shades.
Classically beautiful, her brown eyes made intense contact that I was later to learn was natural for the breed. I spoke quietly to her, offering the treat through the fence. She showed no interest.
Her gaze remained strong, but she offered no response to my overtures. Taken by her elegance but torn by reluctance, hers and mine, I reached my fingers between the metal fence. I wanted to touch her, to reassure her that though I might not be her liberator, I was at least friendly.
As I did, she moved close to my outstretched hand, resting her neck contentedly against my welcoming caress.
"I can't take her now. I'll come back for her. I promise."
Tim, in turn, promised not shoot her.
All the way to Cheyenne, anxious thoughts filled my brain. At the first opportunity, I called Tim. "Is she still there? I am coming back for her."
Tears of relief filled my eyes as I heard his monotone reply.
"She's here."
A week later, on the deserted road toward Unionville, I felt jumpy. What if Tim hadn't kept his promise? What if…?
Ten years later the what-ifs still echo. What if I hadn't decided to explore Samuel Clemens' historical site? What if I had arrived a few hours later? What if the postal woman hadn't been delivering her mail at that exact moment? What if Sam hadn't been there at the end of the road, wagging her tail, joyfully greeting me on my return?
No need to ask. We forever dog owners know how this works.
• With National Homeless Animals Day approaching and the cost of owning a pet ranging from $227 to more than $2,000, depending on the type of animal, WalletHub (A website)took an in-depth look at 2017's Most Pet-Friendly Cities.
In order to determine where Americans' furry and slimy companions can enjoy the best quality of life without breaking the bank, WalletHub's analysts compared the creature-friendliness of the 100 largest cities across 21 key metrics. The data set ranges from minimum pet-care provider rate per visit to pet businesses per capita to walkability.
Most Pet-Friendly Cities Least Pet-Friendly Cities
1 Scottsdale, AZ 91 Charlotte, NC
2 Phoenix, AZ 92 Anchorage, AK
3 Tampa, FL 93 Philadelphia, PA
4 San Diego, CA 94 Buffalo, NY
5 Orlando, FL 95 Santa Ana, CA
6 Birmingham, AL 96 Boston, MA
7 Austin, TX 97 New York, NY
8 Cincinnati, OH 98 Honolulu, HI
9 Atlanta, GA 99 Baltimore, MD
10 Las Vegas, NV 100 Newark, NJ
Key Stats
Columbus, Ohio, has the lowest average veterinary care costs (per visit), $33.25, which is 2.5 times lower than in New York, the city with the highest at $84.47.
Miami, Florida, has the most veterinarians (per square root of population), 88 times more than in Newark, New Jersey, the city with the fewest.
St. Paul, Minnesota, has the lowest monthly dog-insurance premium, $33.71, which is 2.4 times lower than in New York, the city with the highest at $80.78.
San Francisco, California, has the most pet businesses (per square root of population), 23 times more than in Laredo, Texas the city with the fewest.
Of course Ventura would have been number one if we were a bigger city!
To view the full report and your city's rank, please visit:
https://wallethub.com/edu/most-pet-friendly-cities/5562/
• Biggest Adoption Event of 2017! Clear The Shelters
Saturday, August 19, 2017 (10AM – 6PM)
Camarillo Animal Shelter & Simi Valley Animal Shelter
To find homes for every homeless dog and cat!
Each $20 dog and cat adoption comes with $998 worth of services, gifts and coupons. An additional $20 pet license fee may apply.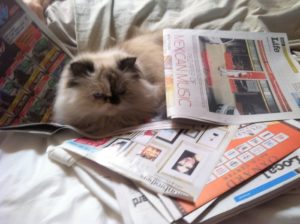 • Is wagging related to smell?
Yes. Many of a dog's identifying smells are in the anal glands. Those sacs transmit how a dog is feeling — anxious? playful? — and the essence of who the dog is. To greet one another dogs wag, basically dispensing their personal odors from their rumps."
Researchers have found that dogs have 300 million olfactory receptors, compared with about six million for humans. No wonder they can smell a hot dog several blocks away.
• On Sunday, September 24, from 9am-noon an Animal Career Fair will be held at Ventura Pet Wellness & Dog Training Center located at 3521 Arundell Circle #B in Ventura. This event is free to the public!
Are you interested in a career with animals but aren't sure what is available or how to get into the field? Attend the Animal Career Fair where you can meet animal professionals from different fields and ask questions about their careers.