Seth Shinden with a volunteer buddy of the Best Day Foundation.
by Rebecca Wicks
Seth Shinden, 13, is like other Balboa Middle School students. He enjoys live music, bowling, gymnastics, and just being outside. He has always loved the beach and ocean. Seth is however, autistic and epileptic, which at times makes some activities less accessible.
His parents have worked to keep him close to the sea, making regular visits. While he frequently enjoys time in the sand with his sisters and family, some of his most memorable moments are those surfing and kayaking. Many of these adventures have been made possible by the Best Day Foundation, where volunteers tandem surf or kayak with Seth. Last month, he surfed C-Street tandem-style with one of the Best Day Foundation volunteers, as part of a day organized by the group that works to host activity events for families that have children with special needs.
"Seth loves everything about surfing," said Katie Shinden, Seth's mother. "He first did it when he was 5. He was a little nervous at first, but the organization's volunteer buddies that helped out were great about carrying him into the water and getting him comfortable."
Nancy Pedersen first started working with the organization in 2010, helping out at events. Today she serves as the co-chair of the Ventura Chapter, and sits on the organization's national advisory board. She explained how she has been drawn further into the organization, how making memories for kids, their families as well as volunteers – all in the span of one short day – is something she thinks is "cool."
"I just love the community aspect of each event, the fact that the likes of surfers, high school kids, and seniors come together to make it happen," Pedersen explained. "We start each event on an empty beach and then with the help of volunteers great stuff happens."
Seth and thousands of other special needs children have enjoyed tandem surfing, body boarding, kayaking, stand up paddling, outrigger canoeing and more through the organization's many events around the nation. The group conducts events in Virginia, Florida, New Jersey and five communities in California including Ventura. The Foundation has already held four events this year in Ventura and has four additional upcoming events which will take place at C-Street, on September 10, and Harbor Cove, on August 5, August 26, and October 7.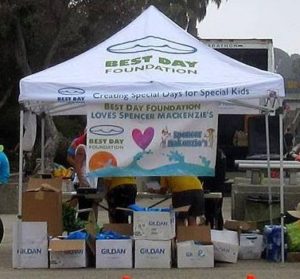 The Best Day Foundation was founded to share the knowledge and experience developed by Ride a Wave, a similar organization started in Santa Cruz. Each year the group's event count grows, also adding new locations annually. This year the Foundation will hold upward of 50 events across the country.
Pedersen likes what the organization offers to people who don't have a way to experience these sports on their own, and has witnessed first hand, their impact. She told of a particular father who was certain his son would not get in the water, who worried he would refuse to participate as he hadn't shown interest in either water, or water sports in the past. Pedersen wonders if it was because the son never had the opportunity.
According to Pedersen, the son had a great time and the father relayed the following to her, "The dad said, the only limitations are the ones I put on him, and I need to stop doing that – we're getting beach gear."