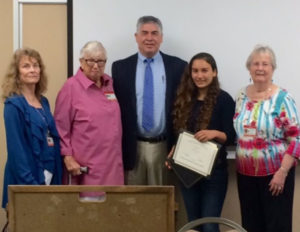 On June 12, Audrey L. Carman was presented with the Maria Cavallo Scholarship for $2,000 and the Audrey Woodburn Scholarship for $2,000. These awards are given to a graduating Junior Volunteer who has served at least 100 hours in the CMH Auxiliary, has maintained a 3.50 GPA or better, and will be attending an accredited college or university. The recipient must also be planning to pursue a healthcare career such as becoming a physician, nurse, physical therapist, pharmacist, etc.
Audrey has accumulated 330 volunteer hours at CMH, while maintaining a 4.0-4.33 GPA at Ventura High School. She is not only a California Scholarship Federation member, but she served as the CSF club's president for three years. Her campus involvement also included membership in Key Club, International Volunteers Organization, and the Multi-Ethnic Club.
Dedication to academic excellence is evident in the many awards Audrey has received. She was named Ventura High School's Cougar of the Month four times and was on the Honor Roll / Principal's Honor Roll from 6th through 12th grades. She received UCLA's Brain Research Institute's Special Award. She placed 3rd in the senior's division at the California State Science Fair and 2nd place in the senior's division of Human Behavioral and Social Sciences at the Ventura County Science Fair. At graduation, Audrey received a multi-lingual diploma seal and cord.
Audrey will be attending Ventura College next year where she will pursue a career in nursing and health sciences.