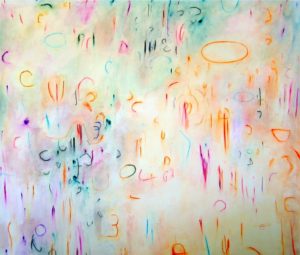 World Without Walls painting by Erik Reel will be exhibited at the Porch Gallery in Ojai through August 20. Show opens Saturday July 15 from 5 to 7 pm. LA-based artist Diane Silver will also be featured. Porch Gallery is located at 310 East Matilija Ave. and is open Thursday and Friday noon-5, Saturdays 11-4, Sundays 9:30-1 and by appointment at 620.7589.
At 3 p.m. on Saturday, July 15 the Ojai Library will host a screening of the film Paying the Price for Peace: The Story of S. Brian Willson & Voices from the Peace Movement. After the screening there will be a Q&A session with the film's Associate Producer, Frank Dorrel.
Vietnam veteran S. Brian Willson paid the price for peace as he was run over and nearly killed by a military train during a non-violent protest on September 1st, 1987. Since then, Brian has not stopped calling attention to the effects of the U.S. military machine and ongoing state of war.
This event is free and open to the public. For additional information, contact Ron Solórzano, Regional Librarian, at 218-9146.
The Ojai Library is located at 111 East Ojai Ave. Hours are 10 a.m. to 8 p.m. Monday through Thursday and 12 p.m. to 5 p.m. Friday through Sunday.
The Ojai Photography Club hosts Michelle Magdalena Maddox, an award-winning fine art and commercial photographer based in Pacific Grove. The free presentation, "The Creative Process," will be held at 7 p.m. on Tuesday, July 18, 2017, at Help of Ojai's Kent Hall, 111 W. Santa Ana St.
A graduate of Brooks Institute in 2006, Maddox will share her journey through photography with an in-depth look into the many series she has created and her evolving process.
Monthly free presentations are part of the Ojai Photography Club's community service and education outreach.
The club meets on the third Tuesday of each month, February – November. Only members may submit images for critique. More information is available at: www.ojaiphotoclub.com/
The Ojai Playwrights Conference (OPC), one of the most acclaimed new play developmental programs in the country, announces its celebratory 20th Anniversary season with an extraordinary program of playwrights, new play workshop presentations and special performance events from August 6 through 13.
The OPC Summer New Works Festival will feature twelve events over five days with up-and-coming playwrights as well as writers that have been working with the conference for many years.
Seating is limited for the OPC Summer New Works Festival, and tickets ($30) may be purchased online at www.ojaiplays.org.
For thirty years the Ojai Valley Land Conservancy has worked to preserve and protect local open space. The newest Ojai Valley Museum exhibition examines at their history and their preserves. The Opening Reception of "Protecting The Ojai: Ojai Valley Land Conservancy" is Saturday, July 8 from 5-7pm at the museum.
"The natural landscape of the valley is such an important part of our community that an exhibit highlighting the Land Conservancy's work makes perfect sense for the museum." said museum director Wendy Barker. Edward Libbey helped transform Ojai based on his belief in the City Beautiful Movement – that living in a well-designed community inspires civic engagement.
The exhibition will be open from July 8 through September 24th.
A Town Talk on Creating Trails will take place on Sunday, July 23rd from 4:30pm to 6pm. Presenters Rick Bisaccia, OVLC Stewardship Director and Craig R Carey, author of "Hiking and Backpacking Ventura and Santa Barbara" will discuss what makes a good trail and where the best ones in the backcountry. Admission to Town Talks is $5, free for museum members.
The Ojai Valley Museum is located at 130 W. Ojai Ave. Free parking is available behind the museum, off Blanche Street. Gallery hours are Tuesday through Saturday 10 am to 4 pm and Sunday noon to 4 pm. Group or school tours available by appointment.
For information call the museum at 640-1390, ext. 201, email [email protected], or visit the museum website at OjaiValleyMuseum.org.