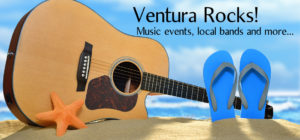 by Pam Baumgardner
VenturaRocks.com
YAY!!! It's time for Surf Rodeo with two days of fun in the sun at the beach and featuring not only a surf competition, but cool bands playing on two stages over the weekend of July 15th and 16th. There will be tons of music featuring artists like Rey Fresco, Thee Commons, Stoneflys, 50 Sticks of Dynamite, Bird Brain, The Rouse, Honey Owl, Mariachi El Bronx, and Super Duper Kyle who will be performing on Sunday (he's been selling out shows in Chicago, Detroit, etc…). Be sure to swing by the VenturaRocks.com and Ventura Breeze booth on Seaward while you're out having fun and say hello!
You won't want to miss Women in the Round, "Voices", at the Bell Arts Factory on Saturday, July 15 with performances from Andrea Landin, Michelle Rosenblum (aka Melody Bird), Donna Lynn Caskey, Shelby Figueroa and Amber Bassett. Show starts at 7 and it would be awesome of you to make a donation at the door to support their efforts.
Throwing Oxnard some love, the Collection at River park is offering free summer concerts on Thursday nights beginning with Dirty Rice on July 6 followed by Led Zepagain on the 13th, and Southbound and Company on July 22.
Congratulations to Jan for opening her third restaurant (she also owns Prime here in Ventura), this one is right smack dab in the middle of downtown Ventura at 391 E. Main Street. She named it Casa Bella and will be providing live music three nights a week: Tuesdays with Adam Tunney and "Rat Pack" type music, Encore on Fridays with R&B Motown sound, and cool jazz on Saturdays with Ricky Williams. All music is expected to get underway by 7 pm.
If you're a TOOL fan, then you know the band just wrapped up a tour (yeah, no new album yet) which means drummer Danny Carrey has some extra time on his hands so he'll be once again joining the Doug Webb Group at Squashed Grapes when they play on Saturday, July 8. Be sure to secure tickets at (805) 643-7300.
Quick notes: The Queens of the Stone Age concert at the Ventura Theater has been canceled, Kelly's Lot is opening for Junior Brown at the Canyon Club on July 9, Music Under the Stars kicks off their summer concert season July 15 at Olivas Adobe with WhosNext; Tim Curran and The Brambles will be at Beach House Tacos on the Ventura Pier, Sunday, July 16 4-7 pm; and finally the 2017 Ventura Music Festival kicks off their "An American Season" featuring 23 performances this year including Perla Batalla's tribute to Leonard Cohen on Friday, July 21, and Simply Three on Saturday July 22 at Ventura College Performing Arts Center, all of their events and ticket information can be found at VenturaMusicFestival.org.
Do you have any music-related news or upcoming shows you want help publicizing? Please send all information short or long to [email protected], and for updated music listings daily, go to www.VenturaRocks.com.