Dr. Amy Vlazny of Ohana Pet Hospital reviewing a patient's barium radiograph study.
Our beautiful beachside community is home to thousands of pets and dog walking-cat snuggling-bird smooching pet parents. Fortunately, it is also home to outstanding veterinary care—including almost thirty female veterinarians. If you are looking for veterinary care for your pet you may want to search – emergency vet near me – to find about where you local vets. Nationwide, veterinary schools report as much as 75 % of all veterinary medical students are currently women. If you are interested in joining them and becoming a vet then there are plenty of Animal training courses that will get you started in that career. What attracts women to this profession and how has Ventura been fortunate enough to attract so many?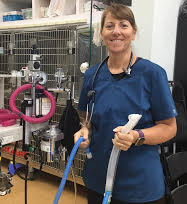 Dr. Janis Shinkawa, one of the founders of Ohana Pet Hospital says she was a rescuer of birds at a very young age, but didn't have the confidence to become a doctor. "I started out as a CPA at Ernst and Young in Hawaii and loved it. However, my calling to work with animals continued to nag at me."
Dr. Shinkawa came here for an internship at Veterinary Medical and Surgical Group of Ventura (VMSG) and co-founded Ohana in 2012 along with Dr. Jill Muraoka, Dr. Nicci Quinn and Dr. Kate Byrne. "We thought it was important to keep talented doctors in the community," states Dr. Muraoka.
Eight of the eleven doctors at the all-female practice have completed a rigorous medical and surgical internship. "Ventura has a lot of exceptional and caring veterinarians. It's a great place for pet lovers." Dr. Shinkawa hopes more women will strive to own their own practice. "Our industry is becoming more corporate. Having more privately owned veterinary practices will maintain the highest quality and service for our patients and clients."
Dr. Shelly Wilson, founder of The Animal Doctor clinic says that she too finds working with animals rewarding. Dr. Wilson was only three or four years old when she decided she wanted to be an animal doctor. "When I see the relationships that people have with their animals and how deeply important they are and the happiness they bring, it's awesome to know that I can support that in some way and be a part of that bond."
The first woman veterinarian in Ventura, Dr. Karen Moore, opened Moore Veterinary Care in 1986. "When I was growing up and adults would ask, 'what do you want to be when you grow up?', my answer, 'I want to be a vet!' would perplex everyone. Their brow would wrinkle up and they'd look at me and say, 'why do you want to join the military?' Think about that, no one could imagine a girl wanting to become a veterinarian!"
Dr. Amy Vlazny says she was a shy kid who was more comfortable around animals. "I loved biology but realized as I got older that I wanted to go into a service-oriented profession rather than being cooped up in a lab all day. Human medicine didn't really appeal to me because it seemed so narrow and specialized. I found the diversity of cases in veterinary general medicine to be more exciting." Dr. Vlazny says the best part about veterinary medicine is that she is constantly challenged and enjoys that each case is different. Dr. Moore agrees, "No two days are ever the same between the various maladies presented, and many different skill sets are developed and utilized to resolve them. It's also a constantly evolving profession."
Emergency Veterinary Care doctor Sarah Gray said she always loved science and animals. Board-certified veterinarians, Dr. Gray and Dr. Nancy Scott founded EVC in 2016 as a small animal emergency hospital supporting local veterinarians' clients with urgent care seven days a week. Dr. Scott says she began her journey because she was more comfortable with sick animals than sick people, but found that working with pet parents has become her favorite part. The emergency hospital is open evenings until midnight and treats mainly cats and dogs. "We see a lot of vomiting, diarrhea, trauma and acute respiratory issues." Dr. Gray also takes calls for a national pet poison hotline and specializes in toxicity and poison control. "We also handle post-ops for surgeries and do overnight care for other vets."
What is the best part about modern veterinary medicine? According to Dr. Wilson it is the technology, "So many new capabilities, procedures, solutions, treatments are becoming available! There is almost nothing we can't do for our pets that we can do in people!" Wilson says dogs and cats suffering from crippling arthritis can now be successfully treated in several different ways and live years longer than they ever have. Many cancers can be successfully treated to allow remission times of several years while maintaining an excellent quality of life. Cataract surgery is available for dogs and are many specialty facilities now that provide MRI, CT scanning, radiation therapies, and physical rehabilitation.