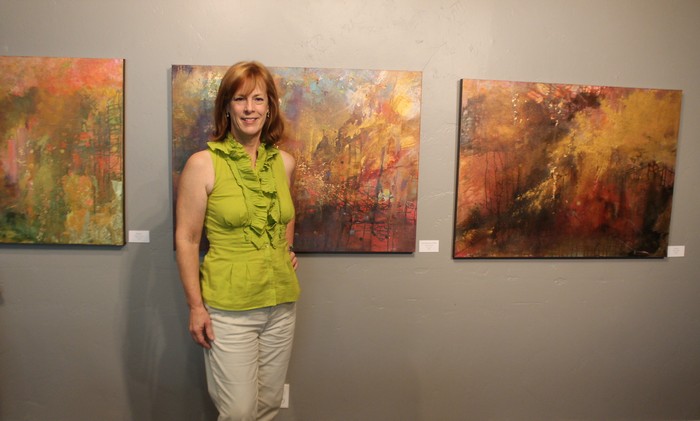 The Other Mozart was a one woman play recently showing at the Rubicon Theatre. The work of local artists are on display in the new downstairs gallery and can be viewed when attending events at the Rubicon. The gallery will be open to visitors an hour before the show starts and directly after the performance.
The paintings will constantly be changing.
Mary-Gail King displayed 15 of her painting in the gallery some inspired by the other Mozart. She stated "When I first heard the story of Mozart's sister, the saddest thing about it wasn't that she worked in obscurity but that none of her music survived. Women's work has often been seen as less important than men's. In creating new work for The Other Mozart I wanted to explore feminine creativity. As the work unfolded I rediscovered that creativity is about human potential which encompasses all genders."
Mary-Gail King is an award winning artist and creativity consultant. She has a BA in Communication Arts and Marketing from the University of South Alabama and continued her study in art and interior design at Meredith College in Raleigh, NC. She has painted along the Central and Southern California Coasts since 2001, had over 50 solo shows, is included in both corporate and private collections throughout the United States and is an Artist in Residence at Studio Channel Islands. Much of her work has been inspired by great music.
A member of the Los Angeles Art Association, the California Art Club, and the Santa Barbara Art Association, King's most recent large scale project was a commission for the 20th anniversary of the New West Symphony. She was a featured artist for their March 2015 100th anniversary of Gustav Holst's The Planets.