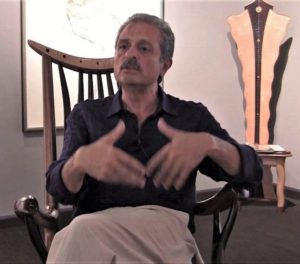 Focus on the Masters has highlighted where art begins — with an artist. Gallerist Khaled Al Awar, a 1970 emigrant from Lebanon, moved to Ojai in 1982. He established the Primavera Gallery which features international and local artists, both individually and in group shows. Khaled's dedication to the arts and devotion to community has earned him a Lifetime Achievement Award in the Arts from the City of Ojai. Please join Donna Granata and Khaled Al Awar discuss the importance of galleries in furthering an artist's career. To learn about the Primavera Gallery, visit www.PrimaveraFineArt.com
Make your reservation today! www.FocusOnTheMasters.com or 653.2501. $10 for the general public, $5 for students and seniors, and free to Focus on the Masters Members. Not a member? Sign up today at www.FocusOnTheMasters.com.
The Artist Spotlight is open to students attending as a class assignment free of charge. Faculty and students are requested to make a reservation.