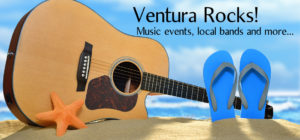 by Pam Baumgardner
VenturaRocks.com
The Ojai Music Festival is underway taking over several venues and running June 8 – June 11. You'll need tickets for most events, but there are several free concerts throughout the week.  You can get information at OjaiFestival.org.
Rene Ponce gave me the lowdown on Goodnight Kiss when they recently played at Ollie's Duck and Dive in Malibu.  He told me they've played there several times, but this last time Kid Rock was in the crowd and accepted the band's invitation to join them for a couple of tunes. How cool is that? The guys return to Ventura on June 17th when they open for Brothers Fortune at Bombay's.
The Ventura Beach Club has been booked on Saturday, June 17th by Stay True and ideal Music Collective hoping to alleviate those "No-Warped-Tour-Again-This-Year-Blues" by lining up bands and DJs indoors and out.  On the bill includes Split Second, Love Thing, Yearbooks, No Advisory, Two Brothers and Pretty Well.  If you love punk, ska, emo & pop, you won't want to miss this one.
Ones to Watch Productions (O2W) have announced that Grammy Award winning artist Lucinda Williams will be headlining this year's Topa Topa Folk Fest at the Libbey Bowl in October. Leading up to the event, O2W will be hosting a folk fest showcase on June 17 at Topa Mountain Winery featuring Justine Bennett, Tim Curran, The Brambles and Shane Alexander. Get more information on all their events at TopaTopaFolkFest.com.
Quick notes: You can get your tickets for Roadshow Revival with Los Lobos headlining on Saturday, July 1 at Discovery at RoadShowRevival.com; The Wine Rack is rebranding itself as Vintura Tasting Room & Wine Rack; the Boatyard Café is undergoing some upgrades and I understand renaming itself as the Boatyard Pub; Alastair Greene is heading out to jam at the Chicago Blues Fest on June 10; Shawn Jones returns from Europe and will be at Grapes and Hops on Saturday, June 17; and finally don't miss Alex Nestor when she plays at Café Fiore, on Friday, June 16, she opened Sunday (May 28) at the Simi Valley Cajun and Blues fest.
And finally, I've officially made a name change for my radio show on CAPS Media's KPPQ-LP, 104.1 FM.  I seriously thought about calling it Pam on the Rocks, but out of respect to Rodney Bingenheimer (Rodney on the Roq), I opted against it; and because I can't use Ventura Rocks, my third chose, and apparent final choice is: The 805 Music Scene with Pam Baumgardner.  The name alone encompasses more than Ventura, even more than Ventura County which is good. I still play indie artists from outside our area who have caught my ear, and I spin tunes from bands who have come here to play. Tune in and support local music Tuesdays and Fridays 5-6 pm.
Do you have any music-related news or upcoming shows you want help publicizing? Please send all information short or long to [email protected], and for updated music listings daily, go to www.VenturaRocks.com.