•  Welcome to our first "Pet Page." We know that it will never be the same (or personal)without the Professor but we shall carry on in his name. He will be missed forever.
•  The Humane Society of Ventura County is celebrating its 85th anniversary by holding an open house on June 10, from 10 a.m. to 3 p.m., at its Ojai shelter at 402 Bryant St.
Attendees will have the opportunity to get a behind-the scenes look at the shelter, interact with animals, tour the kennels and clinic, meet the staff and learn about different volunteer opportunities.
A variety of local artists and crafts people will have one-of-a kind items available for sale. Attendees also can enjoy refreshments, participate in an scavenger hunt and learn more about how they can make a difference in the lives of animals in need.
Humane Educator Dawn Reily will have her assortment of critters, and humane officers will be on hand to give attendees a look at the responsibilities and duties of protecting animals throughout the county.
Firefly Ceramics will have a booth, and for or a $25 donation to benefit the shelter's new kennels, and attendees can design their tile to later become a permanent part of the structure.
Also, the shelter's main attraction – the animals —will be available for adoption. "You never know when you are going to meet your new best friend," said Franki Williams, the HSVC's media and marketing director.
The Humane Society of Ventura County is a private, nonprofit organization founded in 1932. It does not receive federal, state or local tax dollars to operate and relies solely on private donations.
•  Upgrade at the Simi Valley Animal Shelter requires kennels to be emptied! They are holding a "CLEAR THE SHELTER" adoption promotion until June 5th for all dogs. This promotion does not include the cost of a $20 license.
As always, adoption promotions do not guarantee the adoption of a pet. Application and Adoption Counseling from a trained VCAS Adoption Counselor are required as a prerequisite to adoption.
•  by Victoria Usher: A discovery was made recently at two elementary schools. Lead has been found in the water system at Emerson Bandini Elementary School and San Diego Co-Operative Charter School 2 who share a campus together. Testing of all the pipes in the San Diego Unified School District will happen soon because of this frightening discovery. This was all uncovered because one of the teachers at the charter school had been noticing that her therapy dog had not been drinking from a bowl filled with water from one of the classrooms. The teacher soon realized that something was wrong after looking and seeing that there was a sheen on the water. The district sampled a bunch of water outlets around campus after that and discovered that it was contaminated. I think we should all give a giant thank you to that teacher's therapy dog!
•  Are these skydiving dogs poachers' worst enemies? Meet Arrow and his handler, Henry Holtshyzen. Harnessed together, they take off across the vast wildlife preserve in Johannesburg, South Africa.
Arrow seems unperturbed, even as they hurl themselves out of the helicopter, falling more than 6,000 feet to earth — and landing in the middle of the poaching wars.
"Getting the dog to the frontlines as fast as possible is always a challenge and parachuting and rappelling is one of the ways of getting dog boots on the ground where they are needed," Holtshyzen says.
These elite dogs are trained to immediately sniff out the poacher, rushing to attack, pinning the poacher to the ground until more help arrives.
The dogs are up against up against highly-trained, heavily-armed poachers who run a multimillion-dollar industry trading in elephant and rhino horn. In the past seven years, a third of Africa's elephants have been wiped out.
Nearly 100 of these sky diving dogs have been placed in game reserves across Africa. In one region, they caught more than 100 poachers in 18 months. One dog, Killer nabbed more poachers than rangers equipped with the latest high tech weapons.
---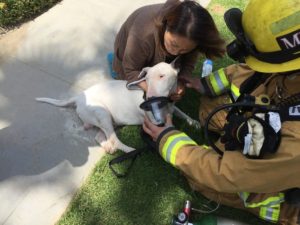 On May 9 Ventura Fire responded to a residential structure fire, the first arriving engine company reported heavy smoke showing from the first floor of a two-story single-family residence in the 600 block of Tarlow Ave. The occupants were out but the family dog was unaccounted for. The missing dog was located within the residence, having been overcome by smoke. It was successfully revived by fire personnel at the scene using pet-specific oxygen equipment.
---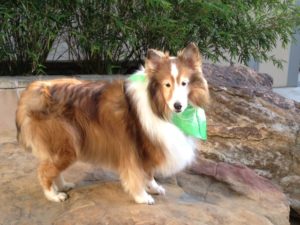 Landon the Sheltie, a canine resident of Thousand Oaks, has had an amazing life of adventure and positive influence. After having a rough start as a young dog, Landon not only became a model and actor, but also had his own community education platform, led charity events, and became a certified therapy dog. Landon's latest project though is particularly impressive, as he was recently appointed as the "Wellness Ambassador" for ISD Innovations—a Newbury Park-based nonprofit organization dedicated to projects that improve mental health and well-being.
---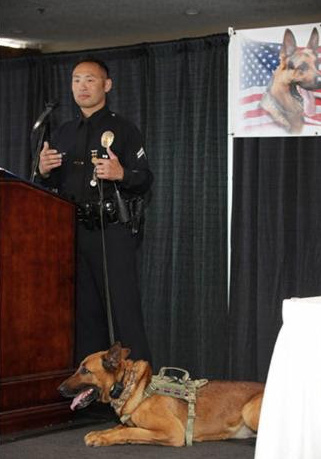 National Police Dog Foundation's The NPDF's 2016 K-9 Hero of the Year, Edo, retired last month after 6 years of faithful service to the Los Angeles PD Metropolitan Division. The 8-year-old Belgian Malinois assisted with all armed suspect searches along with his handler, Officer Huynh. In March 2016, he was named the NPDF's K-9 Hero of the Year for his courageous role in raiding a home involved in a hostage situation.