In Remembrance of Scamp 2002-2017
In Remembrance of Scamp 2002-2017
---
Hi Sheldon and Diane
I just wanted to tell you how sorry I am about your baby boy. I know how much you guys love him and what a great pet editor he was. Now that he's crossed the rainbow bridge, I hope you can find comfort in his memories, adorable pictures and fame.
It's never ever easy – I'm really sorry for your loss and I hope your hearts heal soon.
Breezy Gledhill
---
Never easy … big hugs to all of you.
Jennifer Young
---
I am so sorry to hear that Scamp isn't doing well. I've seen him over the years as well as you at dog events around town. It's so hard to know he could be gone soon, he will take a big piece of your heart with him.
Know he  loves you in only the way a dog can love: unconditionally.
Take care Scamp fan Fritz
---
If it should be that I grow weak,
And pain should keep me from my sleep,
Then you must do what must be done,
For this last battle cannot be won.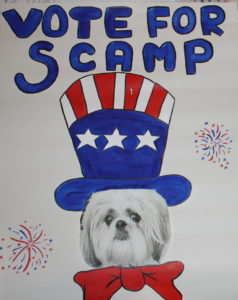 You will be sad, I understand;
Don't let your grief then stay your hand.
For this day more than all the rest,
Your love for me must stand the test.
We've had so many happy years –
What is to come can hold no fears.
You'd not want me to suffer so;
The time has come, so let me go.
Take me where my needs they'll tend
And please stay with me until the end.
Hold me firm and speak to me
Until my eyes no longer see.
I know in time that you will see
The kindness that you did for me.
Although my tail its last has waved,
From pain and suffering I've been saved
Please do not grieve – it must be you
Who had this painful thing to do.
We've been so close, we two, these years
Don't let your heart hold back its tears.
Sent by Patty Jenkins Poem is by an unknown author
---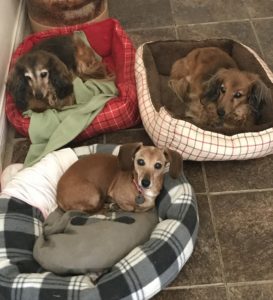 Hi Scamp,
We're sorry you're not feeling well. We know how it feels to be special (mommie & daddy had to get special permission at The City Center for us to live there) and how sad your mommie & daddy must be right now.
We really hope you get well.
Bono, Lizzy & Emma
---
Dear Diane & Sheldon
Scamp was a wonderful dog and I know brought you lots of joy. He had a great full life. I could tell because he was so happy. All the best.
Beth, Ella & Clare
---
Dear Diane & Sheldon
Scamp was an amazing dog who touched all of our hearts. He will never be forgotten. Always here for all of you. Love the Bakers
---
You're in our thoughts.  We know Professor Scamp was a very special part of your family and brought you many years of cherished memories.
Canine Adoption and Rescue League
---
I just wanted to give you my condolences on Scamp's passing. Me and my girlfriend fell in love with Scamp and his column. It's clear to me he was well loved by all, as all dogs should be, and he will be missed.
Manny Reynoso
---
I am so so sorry.   My love to you all … please kiss Scamp goodbye from me.   I am having something made in his honor
Cappi Patterson
---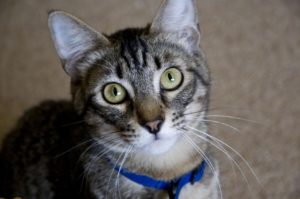 Sheldon, I am so very sorry to hear of the loss of your furry family member. …
Kat Merrick
---
So sorry Sheldon. I know how it feels.
Barbara Hinton
---
Oh I'm so sorry Sheldon and Diane I know how much you love him❤I know how hard it is.
Mindy Benezra
---
Sorry to hear about Scamp.  I know you two were close.
George Robertson
---
Sheldon:
As a pet owner (have lost 2) I wanted to tell you I've shared your grief. There is nothing in the world to compare to unconditional love of a pet.
Miss Scamp but hope you will soon share love with another.
Jean Nussman.
---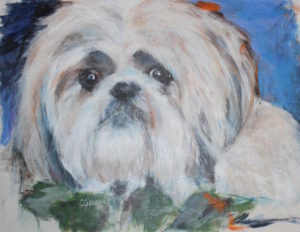 I'm sorry to hear that Sheldon.
Rebecca Wicks
---
Sheldon and Diane, So sorry … it is very sad, losing a beloved pet.
James Gray
---
I am so sorry for the loss of your friend. I feel your dismay.
Shirley Lorraine
---
Thank you for letting me know.  Please know my thoughts and good wishes are with you
Pam Baumgardner
---
Dear Sheldon,
I am sorry. I know what it is to say goodbye to a friend like Scamp. hugs and love to you and Diane.
Elizabeth Alvarez
---
Awwww! Sorry to hear such a sweet dog. We will all miss him. I know you are down now so anything I can do to help be glad to do it.
Richard Lieberman
---
The little guy had a great life with you folks. Letting him check out while it's still great is the biggest favor you can do for him.
Alfred Lewis
---
So sorry Sheldon. It is so rough going thru that. Ugh. Thinking of you both and Scamp. End of an era!
Johanna Spinks
---
So sad to read of Scamp's not-so-good health. Losing a pet has often been harder for me than losing a person. I'm sure you know the drill well – we try and do the best thing for our beloved pet when the time comes. The bottom line is quality of life. Never about us.
Best regards,
Kurt Triffet
---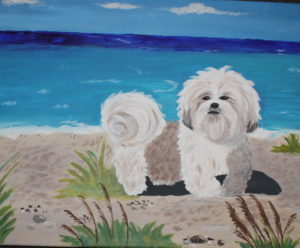 I can't quit crying!!! Wish I could say goodbye to Scampy but I'd probably drown him. My heart goes out to all of you!
Ana Baker
---
I'm so sorry…… Truly understand. Been there. Think about all the fun times (I guess that's what makes it sad) and all the memories he left with you.
Aloha Champ……
Larry Dote
---
We went through this after the death of a cat and my husband said maybe not for a while. I missed the companionship so went to humane society and came home with Mr. Kitty.  He is much loved and by both of us. It is always a hard decision on how soon. Animals are so good for our well-being … and we are good in their lives – albeit shorter than ours.
Will be thinking of you and your wife.
Myrna Cambianica
---
James Mumsford, an American teacher and composer, perhaps described the Shih Tzu best: "Nobody knows how the ancient eunuchs managed to mix together: a dash of lion, several teaspoons of rabbit, a couple of ounces of domestic cat, one part court jester, a dash of ballerina, a pinch of old man, a bit of beggar, a tablespoon of monkey, one part baby seal, a dash of teddy bear, and, for the rest, dogs of Tibetan and Chinese origin." The object of Mumsford's colorful description, the Shih Tzu  is a small, regal dog with long, abundant locks; a distinctive face that melts many a heart; and a friendly attitude. The breed can boast a classy background: he was originally kept by royal Chinese families during the Ming Dynasty. With his flowing hair sweeping the ground and his topknot elegantly tied, the Shih Tzu does appear snobbish, suited only for lying about a palace on silk pillows. Nothing could be further from the truth, however. Shih Tzus are beautiful, but they are also friendly, lively, devoted companions. The Shih Tzu personality is enormously appealing, and even grudging dog observers find it hard to resist this breed. The Shih Tzu simply doesn't allow anyone to ignore him. He was bred to be a friendly companion — he doesn't hunt, herd, or guard — and that's what he is.
He loves nothing more than to meet and greet friends and strangers alike. Count on a Shih Tzu to make friends wherever he goes. Not only is this member of the Toy Group good-natured and friendly, he is highly adaptable. He is as well suited to apartments in the city as to life on a country farm. He loves children and gets along with other animals. Interestingly, the Shih Tzu is sometimes called the Chrysanthemum Dog, a nickname that describes the way the hair on his face grows out in all directions — he looks like a flower with a nose for the center.
Legends regarding the Shih Tzu abound. One says that Buddha traveled with a little dog fitting the description of a Shih Tzu. As the story goes, one day, several robbers came upon the Buddha with the intent of robbing and murdering him. The little dog changed into a ferocious lion and ran off the robbers, saving Buddha's life. The lion then turned back into a fun-loving little dog, which the Buddha picked up and kissed. The white spot on the heads of many Shih Tzus supposedly marks the place where Buddha kissed his loyal friend.
---