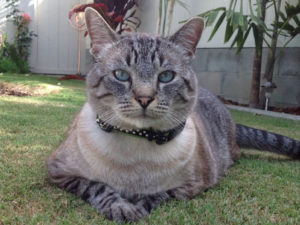 Dear Scamp:
I'm very sad to hear you're feeling so poorly of late, however I understand you're comfortable and getting lots of love and much deserved pampering.
I saw the "Join Scamp Club" notice in the Ventura Breeze recently, and I'd sure be honored to be a member. Of course I'd like to be featured in the Breeze and become world famous too!
Paws crossed you're feeling better very soon.
Fondly, Bighead Jazzpaws
---