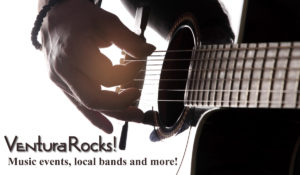 Local music and more!
by Pam Baumgardner
VenturaRocks.com
This year's California Jazz & Wine Fest was another sold-out success; it was held Sunday, April 9, at the Four Seasons Hotel in Westlake Village. The event helped to benefit the Boys & Girls Club of Greater Conejo Valley. The music was exceptional, headlining was The Danny Janklow Quintet; other bands of note included the Lao Tizer Quartet, Bruce Forman's Cow Bop, and Ventura's own, The Barrelhouse Wailers.
Keeping with jazz, don't miss Mike Garson (Bowie, NIN, Smashing Pumpkins) when he returns to Squashed Grapes bringing with him this time, Emmy and Grammy nominated Gaby Moreno on Thursday, April 13; Paul McCallum and Friends return on Saturday, April 15; and Gary Herbig (Harry James, Elvis, Tower of Power) and Bill Spoke Quintet be in the house on April 19.
Our local artists have been busy producing new music.  Hot off the presses is the latest CD from Hot Roux called Hometown Blues.  You can pick up a copy when Hi Hat Entertainment hosts their CD release party on Friday, April 21, at the Hong Kong Inn. You won't want to miss this one as the band will feature not only lead man Jerry McWorter, but Ed Berghoff, Brent Harding, Jimmy Calire and Bill Flores.
Congratulations to local musician Travis Greer for landing a gig on the highly popular Criminal Minds television show on CBS.  He's well-known for his improv work here in town as well as playing with the Los Dudes.
Eric Burdon joined Robby Krieger of the Doors for "Roadhouse Blues," Saturday, April 8, at Libby Bowl. They then played "House of the Rising Sun" from The Animals. Tommy Marsh's Crooked Eye Tommy warmed up the crowd.
The next One's to Watch Productions will be held Wednesday, April 19, at the Plaza Playhouse in Carpinteria with Matt Duke, Jay Nash, Tony Lucca and Tim Curran. You can get tickets at OnesToWatchProductions.com.
I caught up with Ross Emery of Roadshow Revival as he ramps up for this year's show.  It's going to look a lot different this time around with the whole event being held on one day and at Discovery Ventura, but he told me who the headliner is, and I promised not to tell until May 1st, but between you and me, I'm pretty jazzed about it.  Watch for social media news, and get your tickets now!
Here's a couple of one-liner notes of interest:  Jade Hendrix will be opening for Berlin when they play the Libbey Bowl April 22; Face to Face will be at Discovery on May 7 with Bad Cop/Bad Cop opening; Paddy's is celebrating their 23rd anniversary on April 21st with DJ Pat Harper who will be playing classic house music; the Ventura County Spring Fair will be held at the Fairgrounds April 14 – 16 with carnival rides, petting zoo and music from The Velveteen Band; and finally, I'm looking forward to hearing new music from 8Stops7, they just signed with Wendigo Records and will be back in the studio in July.
Do you have any music-related news or upcoming shows you want help publicizing? Or would you like to submit your music for possible inclusion on my radio show? Please send all information short or long to [email protected], and for updated music listings daily, go to www.VenturaRocks.com.