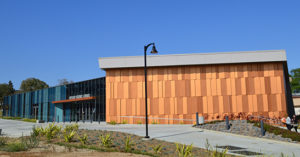 On March 23 a dedication of the Lester Tong Visualization Center at Ventura College Applied Science Center was held.  This 75-seat classroom utilizes a state-of-the-art 3-D dual rear projector system onto an 8′ tall glass "touch screen" where the viewing audience wear powered 3-D glasses.  A 3-D demonstration was held.
Lester Tong worked at the Ventura County Community College District Office and in the Information Technology department at Ventura College for over 30 years. He was dedicated to serving the campus and the community.  Retiring in 2016, Mr. Tong continues his devotion to service in Ventura County by volunteering at various non-profit organizations.
The son of Cantonese immigrants, Lester became a first-generation college student, receiving his B.S. in Business Administration from Pacific Union College in 1971. Lester attributes his success in life to the education he received. He is grateful for an education which created many opportunities for him, including his career at Ventura College.
His passion for education inspired him to leave a lasting impact at Ventura College by creating an endowment for the Ventura College Promise, a program that covers the enrollment costs for the first year at Ventura College.
The District Board of Trustees unanimously authorized the naming of the Ventura College Visualization Center: The Lester Tong Visualization Center.