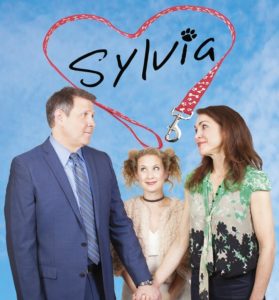 Rubicon Theatre Company presents a contemporary updating of the 1995 comedy SYLVIA, a howlingly funny canine comedy by Drama Desk, Obie and Lortel Award-winner A.R. Gurney (Love Letters, The Dining Room). Considered a comic masterpiece, this hilarious and heartwarming comedy follows a love triangle that forms between empty-nesters Greg and Kate (Kevin Symons and Stasha Surdyke) and an adorable mutt named Sylvia (Ashley Fox Linton).
Greg discovers Sylvia on a visit to Central Park and brings her home without asking for Kate's consent, causing friction in their marriage. Greg and Kate confer with friends, strangers and therapists (all played by Rubicon company member Joseph Fuqua), and ultimately Greg must make a difficult choice. Ovation Award-winning director Stephanie Coltrin has set the play in 2017 in multiple locations in New York City which will be effected by an automated turntable and projections designed by Mike Billings. SYLVIA speaks to our desire for unconditional love and our need to connect on a deeper level in an increasingly fast-paced and complicated world.
The play offers insights into the nature of love, marriage, jealousy, and, of course, dogs. SYLVIA opens  on Saturday, April 22 at 7 p.m., followed by a post-show party with cast, crew and local VIPs. Low-priced previews are April 19-21. The show runs Wednesdays through Sundays through May 7.
Previews
Wednesday, April 19, 2017 at 7 p.m. ($30)
Thursday, April 20, 2017 at 8 p.m. and Friday, April 21, 2017 at 8 p.m. ($35)
Opening Night  Saturday, April 22, 2017 at 7 p.m. ($99)
Regular Performance Times and Prices
Wednesdays at 2 p.m. and 7 p.m. ($50) (Talkbacks follow all Wednesday evening shows except the April 19 Previews.)
Thursdays at 8 p.m. ($55)
Fridays at 8 p.m. ($50)
Saturdays at 2 p.m. and 8 p.m. ($55)
Sundays at 2 p.m. ($55)
Rubicon Theatre Company
1006 E. Main St. Ventura, CA 93001