The future of the world is in the hands of these kids.
Article and photos by Richard Lieberman
Teams faced off at FIRST (For Inspiration and Recognition of Science and Technology) Robotics regional competition at Ventura College. Teams from Ventura County, Chile and Hawaii compete in the FIRST Robotics competition.
The local team is Team 3925 from Ventura County. The team is comprised of seven different local high schools competing against 42 high school teams, including teams from Newbury Park High,  Construction and Engineering charter high school in Camarillo and the Ventura County Career Education Center, where students from six county high schools make up the team.
This event called FIRST Steamworks incorporating a Steampunk theme. The student designed robots are required to pick up an item then throw it, climb and then hang on a tower and to carry an item and place it on a platform.  The teams were given a starter kit to help design and build their robot. Students were allowed six weeks to build, program and test their robots.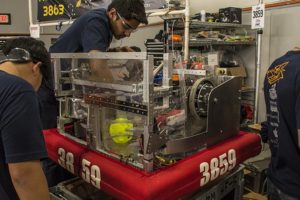 More than 5,000 teams, totaling 78,000 students world-wide are taking part in the FIRST Robotics competition this year. Aiding the students were teachers, and mentors from the programming, engineering, manufacturing field to help students design their robots and form their business plans. All team participants have the option to apply for twenty-two million dollars in scholarships from more than 200 colleges and universities.
Event chair Velma Lomax said "This is what I love so much, it's not just about robotics and competing, it's about everything these kids learn" There are regional competitions that will move on next month to western competitions in Houston, then on to eastern competitions in St. Louis and a final world championship in New Hampshire in July.
Lomax added "These kids are in business fields, they design their own brochures, they do all of their own promoting, their own fundraising. They don't get money from anyone. These kids are amazing and every child can fit in. Additionally, Lomax said "They call it a varsity squad for the mind, another important thing they learn is time management."
Three teams who won the regional with their robots are Team 114 from Los Altos high school, Team 3925 from Career Education at Ventura High School, includes members from Ventura High School, Buena High School, and Foothill Technology. Ventura's team 3925 won a spot to advance to the upcoming competitions.
"It's a lot of components this year, event chair Velma Lomax said." She added  "It's an interesting competition."