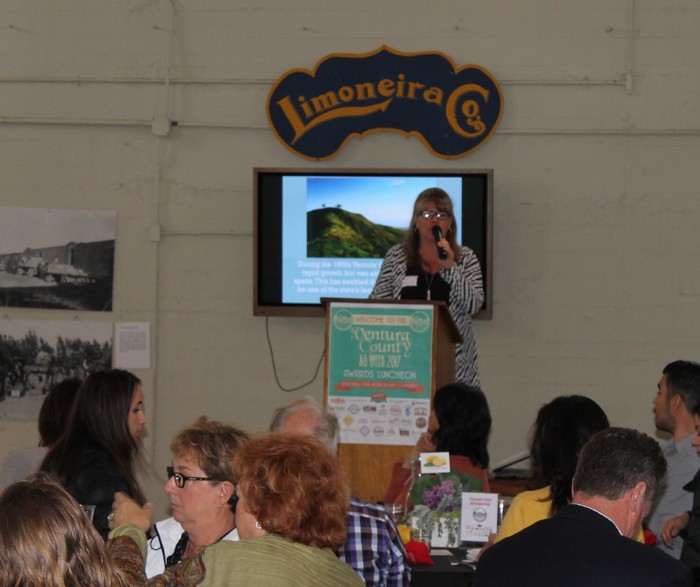 by Randal Beeman
Representatives of the Ventura County agricultural community gathered on March 21st at the headquarters of the Limoneira Company in Santa Paula to celebrate the significance of agriculture in the life of Ventura County and the nation. Held in conjunction with National Agriculture Day, the event was hosted by Kat Merrick, founder and president of the Totally Local Ventura County Agricultural Education Foundation.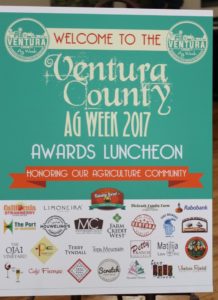 Merrick and other speakers, including Ventura County Agricultural Commissioner Henry Gonzalez and Limoneira CEO Harold Edwards, addressed the significance of farming and ranching currently and historically in Ventura County. Merrick also spoke of the dynamic nature of the industry, and how the recent "food revolution" emphasizing sustainable agriculture and the "farm to fork" approach has been embraced by local growers like Phil McGrath.
Gonzalez noted Ventura County is one of the leading farm counties in the United States and has the most expensive row crop land in the country. Deep, rich soil and access to relatively stable water supplies have propelled Ventura County agriculture to new heights, even though farmers face ongoing challenges from intensive regulatory regimes and pest control to urban sprawl and a lack of public understanding of where food originates.
Edwards discussed Limoneira's sustainability program and their recent partnership with the Tesla Corporation to install solar power storage batteries at Limoneira, which will produce about half of its energy needs from renewable sources.
Edwards accepted the Sustainability Award on behalf of Limoneira. Pat Doler won Educator of the Year, and Chef Tim Kilcoyne of Scratch won Chef of the Year. Rich Atmore of RA Atmore and Sons won the Rancher of the Year Award, and Phil McGrath, of McGrath Family Farms (a family farm in Ventura County since the 1870s) was named Farmer of the Year.