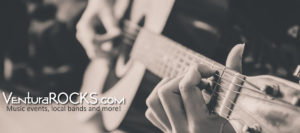 Local music and more!
by Pam Baumgardner
VenturaRocks.com
The Wine Rack on California Street has been sold. Darcy is moving on creating a family and taking over is Kristen Shubert who will be rebranding the venue soon as Vintura. She's cutting back the music to weekends but I don't think it will be for long as she gets grooved in on Ventura's music scene.
The Sandbox Coffeehouse is celebrating their five-year anniversary with live music every weekend, which come to think of it, they already do. Congratulations to Todd and the crew and thanks for giving a platform to artists to share their craft.
ARC of Ventura County is working on raising awareness about people with intellectual and developmental disabilities.  They've put together a great event for Saturday, March 18th at Bombay's which will run 5-8 pm called, "Let's Go Out!" It coincides with March being the National Developmental Disabilities Awareness Month.  Come out and enjoy the music from Fishfry, Seth Pettersen, The Vonettes and Deejay Steph. There is no cover, so bring the entire family!
Grapes and Hops is hosting a special event on Sunday, March 19 to help raise funds for FOOD Share featuring music from Crooked Eye Tommy, Jade Hendrix and Mr. O. Tickets are $25; the affair runs 5-9 pm.
To what was once home to the legendary Beatles that influenced the world with their music, comes a new wave of musicians from the city of Liverpool​. The Falling Doves, Barry Sutton, Cal Ruddy and Sam Rabette (all Liverpool natives) will perform music that inspired American rock n roll. There'll be music from The Beatles, The La's,  as well as their own compositions. ​Catch them on their Liverpool Legends Tour at Oxnard's Copper Blues​​ March 24th.
The Cask Alehouse is offering up music for the East Enders here in Ventura.  They're located at 5952 Telegraph Road.  You'll find live music on Thursday nights at 8 pm.  They'll have Soul 4 II on March 16th, Frank Barajas on the 23rd and Lee Koch on the 30th.
There will be a Nat King Cole birthday celebration at Squashed Grapes on Friday, March 17 with Tilford Jackson and Friends; the Doug Webb group featuring Danny Carey of TOOL returns Saturday March 18; and the Denny Seiwell Trio featuring founding member of Paul McCartney and Wings will be there on Saturday, March 25.
And finally, my radio show, "The Pam Baumgardner Mostly Local Music Hour" on KPPQ-LP 104.1 FM is starting to generate interest.  I'm spinning tunes Tuesdays 5-6 pm with songs from Lee Koch and the Grinders, Bruce Forman, Joaquin Peck, Shelby Figueroa, Jade Hendrix, New Liberty, the Galactic Polecats, Brent Franklin, Dona Oxford and more. The station has been rebroadcasting the show during the week, so be sure to check in often for our local talent.
Do you have any music-related news or upcoming shows you want help publicizing? Or would you like to submit your music for possible inclusion on my radio show? Please send all information short or long to [email protected], and for updated music listings daily, go to www.VenturaRocks.com.