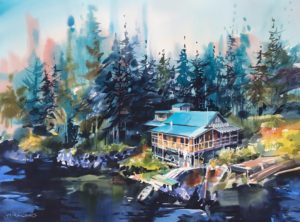 As part of Arts & Eats held in downtown Ventura on Saturday, March 18 from 6 – 8pm. over a dozen galleries, restaurants and shops open their doors for art receptions and complimentary tastes. Visit Downtown Ventura ,stroll Main Street and explore over a dozen galleries, restaurants and shops during this free event! Between the galleries stop for tasty bites at participating shops and restaurants. This event goes from 6pm till 8pm.
There is convenient free parking at two city lots. Visit www.foxfinejewelry.com/event/article/arts-eats/  for map of locations and parking.
Joe Cibere and Margy Gates will display their art in "H2O Watercolors" at Fox Fine Jewelry from March 16 – May 14 with an Art Reception on March 18 from 6 – 8:00pm. Musician Corinn Conant will sing and play guitar during the reception.
Joe Cibere has been a commercial artist for forty years. He has worked as a designer, illustrator, photographer and creative director for many top U.S. brands.
A native Californian, Margy Gates holds a Master of Fine Arts degree from Claremont Graduate University.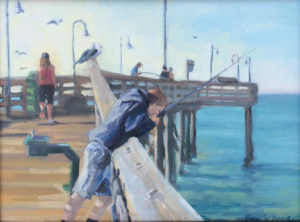 Very Ventura Gift Shop & Gallery is pleased to present a Plein Air art exhibition inspired by "City by the Sea." Group exhibition featuring Kay Zetlmaier, Ray Harris, Christine Beirne and Sparkle Taylor.
Fox Fine Jewelry; 560 E. Main St. 652-1800; Foxfinejewelry.com
Very Ventura Gift Shop & Gallery; 540 E. Main St. 628-3540; very-ventura.com