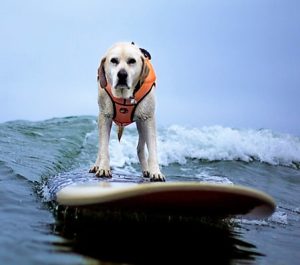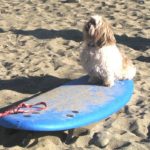 •   Haole, Ventura's surfing dog, will ride with Grand Marshal Mary Osborne when the St. Patrick's Day Parade marches up Main St. on Saturday, March 11. Haole, an 8-year-old yellow Labrador retriever, wowed hundreds of thousands attending the 2017 Rose Parade as well as millions more watching on TV with his surfing skills on a float equipped with a wave machine. Haole, whose name is pronounced "Howl-ie" lets John and Kim Murphy live with him.
I am practicing dry runs getting ready for my surfing debut except that I even hate taking baths so I may never make it into the water.
•   JFK Airport has debuted some of The Ark at JFK, the airport's much-ballyhooed luxury pet terminal. The Equine & Livestock Export Center and Aviary In-Transit Quarantine, along with the "Pet Oasis.
While the first two have very specific purposes the Pet Oasis is intended as more of an all-purpose animal wellness center.
The center is amazing and offers veterinary care and basic services, provide information on travel requirements for pets, customs clearances and quarantines, making sure animals get on the right flights, along with things like micro-chipping, check-ups when animals arrive at JFK, and premium service individual animal reports available including photograph and information on activity.
•   I have fresh appreciation for us dogs sniffing behavior, after reading a new book(of course I can read if I can write) "Being a Dog: Following the Dog into a World of Smell," by Alexandra Horowitz, a professor of cognitive science who runs the Dog Cognition Lab at Barnard College.
In it, she explains the elegant engineering of the dog's olfactory (I've never worked in a factory)system and how familiar canine behaviors like licking, sneezing and tail-wagging have associations with smell.
Her dog is Finn (short for Finnegan)an affable, glossy black 9-year-old mixed breed.
"There are many ways to sniff, and the human method is not the best," Dr. Horowitz said. Sniff researchers (ya really) have found that people have about six million olfactory receptors and  dogs have 300 million(so we win that contest). Humans sniff once per 1.5 seconds and dogs, five to 10 times a second."
"They even exhale better than we do(another win for us)," Dr. Horowitz continued, describing a sort of doggy yoga breath. Dogs exhale through the side slits of their nostrils, so they keep a continuous flow of inhaled air in their snout for smelling. "This gives them a continuous olfactory view of the world."
"Dog sniffs are designed to send odor-carrying air along its length", she said, "humidifying, warming and cleaning it along the way to the back of the nose (maybe to our tails also which is why mine is curved)."
•   by Victoria Usher
World-class dog breeders are planning on gathering together in Shanghai for The World Dog Show in 2019 where they will show off their greyhounds, Great Danes, cocker spaniels, etc. to a large audience.
The World Dog Show has been hosted in a different city every year since 1971. Activists (and me) are against having The World Dog Show in China because of the annual Yulin Lychee and Dog Meat Festival that China has in the city of Yulin every year. Somewhere around 10,000 dogs are slaughtered at this dog meat festival for human consumption.
Activists are standing up and saying (and barking) that unless the Chinese government stops the Yulin festival completely The World Dog Show should be held somewhere else.
There are also some people who feel that having the dog show in Shanghai is a good idea because it could raise more attention and awareness to companion animals and hopefully help establish laws that will protect animals.