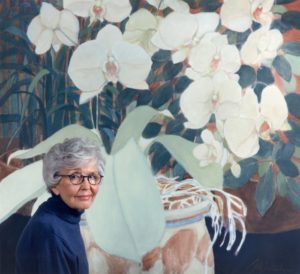 In celebration of Women's History Month, the Ventura College New Media Gallery is proud to announce Photographic Portraits by Ventura College alumni, Donna Granata, founder of Focus on the Masters (FOTM).  The exhibition SPARK: Woman Educators, Innovators, and Activists will run from Thursday, March 2 through Thursday, April 13,  with an opening reception on March 2, from 6:30-8:30 p.m.  A gallery talk is also scheduled for Thursday, March 23, at 1:00 p.m.  The exhibition and gallery talk, located on campus  are free and open to the public.
Established in 1994, FOTM is an on-going non-profit art appreciation program that documents, preserves and presents the works and lives of accomplished contemporary artists, emphasizing the importance of the arts to a healthy community.
The New Media Gallery showcases the work of professional artists throughout the United States. Gallery hours for spring 2017 are Monday – Thursday, 10-4 p.m. and/or by appointment. On campus parking requires a permit which may be purchased for $2 from the automated parking boxes on campus parking lots.
A complete listing of Ventura College art exhibits may be found at http://www.venturacollege.edu/about-ventura-college/college-events/arts-and-events