Guitarist Laurence Juber, Harmony Project young musicians and Jordan Laby at the sleek blue bus. Photo by Bernie Goldstein
The Lennon Bus has provided hundreds of thousands of students and educators with opportunities to tour the bus and get hands on experience with the equipment found on board.  Tours give students an overview of what really goes on in a recording or video production facility and are led by the Lennon staff.  Visitors learn about the history of the Bus, and are introduced to the various production skills needed to produce projects on the bus.
Recently the bus was at Sheridan Way Elementary School and Cabrillo Middle School working with students who are part of the Harmony Group which was formed five years ago by Jordan Laby, and his late wife Sandra.
The Harmony Group, working with the New West Symphony—includes students who were provided with musical instruments and music tuition.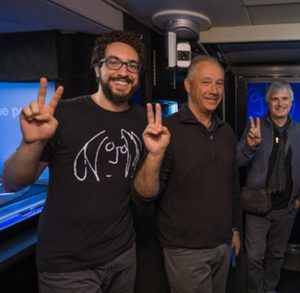 On the bus, Grammy winning guitarist Laurence Juber , from Los Angeles came to coach the youngsters. In one day flat they  produced a remarkable music video featuring the young Harmony students who attend several Ventura schools.  Their video was premiered at Harmony Group's Feb. 12 fundraiser at the Marriott Ventura Beach..
Ivor Davis (writer of The Beatles And Me On Tour) told the Breeze "John Lennon has been dead for 36 years—but his irrepressible spirit lives on in Ventura County  in the shape of a   $6 million bus—the best mobile recording studio in the world. The John Lennon Educational Bus—a living legacy to the late Beatles life– came to Ventura as part of its mission as Yoko Ono puts it,  'to give young people a chance to express themselves through music, video and broadcast productions.' The original purpose in getting the bus to come to Ventura, was to publicize the Laby's  magnificent efforts in launching the Harmony Group here. But alas, Sandra didn't live long enough to see it herself."