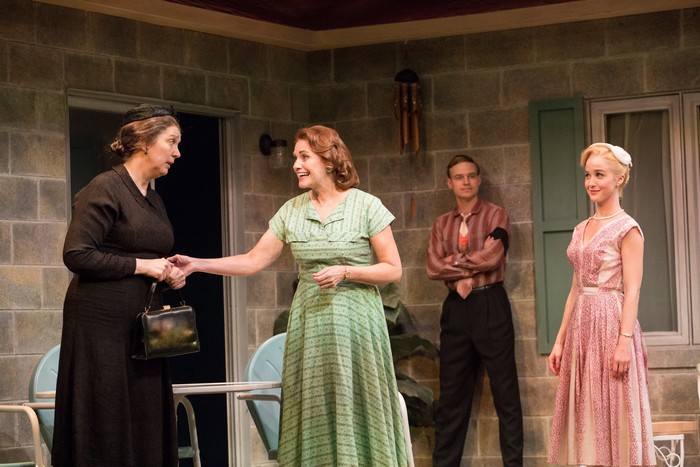 Gulf View Drivewinds up winning trilogy
by Shirley Lorraine
Two seasons ago Ventura County audiences were introduced to the love story of May and Raleigh, a couple who meet during the early years of WWII in Last Train to Nibroc. Last season See Rock City continued to follow the couple's adventures and trials through life. The final peek into their lives occurs in Gulf View Drive, opening this weekend at the Rubicon Theatre.
Both previous stagings have garnered numerous accolades and awards, both for technical aspects and acting.  Lily Nicksay and Erik Odom reprise their critically-acclaimed roles as May and Raleigh, adding even more power and depth to the characters.
The roles of May's mother, sunny Mrs. Gill and Raleigh's mother, the ever-sour Mrs. Brummett, are also continued by the original actors, Sharon Sharth and Clarinda Ross.  Joining the cast for this installment is Faline England in the role of Raleigh's sister Treva. England is no stranger to the Rubicon stage and blends in seamlessly with the rest of the cast. All the characterizations are sharp and well defined.
The actors as a whole carry impressive credits on stage, television and screen. An added bonus to this production is that the actors themselves have grown with the performance of each period in their respective characters' lives. With such familiarity they fully immerse themselves in the roles, highlighting the experience for the audience. We feel as though we know them well.
Katherine Farmer returns to direct the last installment of the story. As with the two previous stagings, Gulf View Drive is filled with familiarity. The audience feels an integral part of the saga of the lives of May and Raleigh.  Working with the same actors throughout has been an extraordinary privilege, according to Farmer.  As well, the play signals the return of the successful and acclaimed technical design team that built and shaped the first two sequences in the trilogy. Subtle lighting and realistic lived-in home design provides a comfortable setting to set the mood.
Author Arlene Hutton has created characters we care about.  Each play stands well alone. However, for those who have seen Last Train to Nibroc or See Rock City, Gulf View Drive provides the audience with a satisfying and well-rounded ending to May and Raleigh's saga.  As an audience member, when I get caught up in character's lives, I want to see how they end up.  Gulf View Drive gives that conclusion that neatly brings the story to a close, while still leaving ampleroom for speculation on what could happen next. An audience member near me remarked "I'm not ready for them to go!"  And we aren't. The story cascades with complications, each one a surprise. Although there is resolution, the story is not done, nor do we want it to be.
Of special note: a free staged reading of Hutton's new work entitled Three Sisters Bronte will be held on Monday, February 6 at 7:00 p.m. Tickets may be requested through the Rubicon box office.
Gulf View Drive plays Wednesdays to Sundays through February 12 at the Rubicon Theatre Company, 1006 E. Main St. Matinees: 2 p.m. Wednesdays, Saturdays and Sundays. Evening performances at 8 p.m., except 7 p.m. on Wednesdays, which features a post-show talk back with the cast. Tickets: $50-$55. The box office is open 7 days a week. There is 24-hour ticketing and seat selection online at www.rubicontheatre.org. 667-2900.