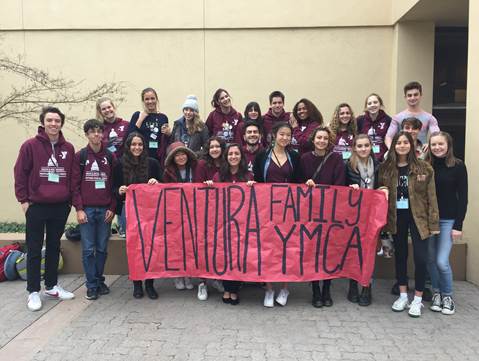 The Channel Islands YMCA Youth & Government delegation joined more than 3,500 youth from across the state in Fresno for their second Training & Elections conference held Jan. 14-16 at the Fresno Convention Center.
The Youth & Government program offered at YMCAs — including the Santa Barbara, Lompoc, Stuart C. Gildred, and Ventura branches of the Channel Islands YMCA — gives students a chance to learn about California's legislative and judicial processes by writing bills, preparing briefs, and governmental role-play (lobbying, running for office, debating bills, voting on legislation).
"I'm always astonished by the amount I can learn in a three-day conference. Even after a semester of AP Government, in this particular conference, I learned more about the process of trial by jury than I had ever learned in class," said Caitlin English, senior and fourth-year delegate at Ventura High School and delegation Vice President. "Being able to act out the democratic process and actively participate in trial is such a different experience and is extremely helpful in understanding how our government operates."
Youth and Government is a six-month program offered by YMCAs across the nation that provides students the opportunity to experience government first-hand and learn how to solve community problems through the democratic process as well as debate and discuss issues with their peers.
"This program is amazing for teens," said Julie O'Brien, Youth Program Director at the Ventura Family YMCA. "To see a group of high schoolers become so passionate about this type of program is an amazing experience for me, not to mention a life changing experience for them!"
In California, the experience culminates with Model Legislature & Court in Sacramento in February. The Channel Islands delegation will participate in the 69th Model Legislature & Court held Feb. 16-19 at the Sacramento Convention Center. Their first Training and Elections Conference was held in December. Both serve as opportunities for the students to prepare.
To support this program or to learn about how to participate, please contact Julie at 642.2131 ext. 23, or visit ciymca.org/ventura.
Established in 1887, the Channel Islands YMCA is a charitable organization of seven YMCA branches serving Santa Barbara and Ventura counties including: Camarillo Family YMCA, Lompoc Family YMCA, Montecito Family YMCA, Santa Barbara Family YMCA, Stuart C. Gildred Family YMCA in Santa Ynez, Ventura Family YMCA, and Youth and Family Services YMCA which operates Noah's Anchorage Youth Crisis Shelter, the St. George Family Youth Center and My Home.