•   The "MY VENTURA" that is mailed to your home from the city has many wonderful dog classes for dogs and our companions so be sure to check it out.
•   The Herman Bennett Foundation has launched several programs to help prevent over population of cats and dogs. Some programs include offering 100% prepaid payment vouchers for the spaying/neutering of cats and dogs to qualified low income pet owners with vouchers performed by qualified Veterinary services.
In November, 2015, the "Foundation" established a subsidiary Thrift Store, "Save a Life Thrift Stores of Ventura County, LLC", located at 601 Mobil Ave. in Camarillo to supplement their funding .
The Herman Bennett Foundation and Save a Life Thrift Stores is supporting new program "Medical Assistance for a  Military Service Dogs."  Save this date, Friday, February 3 at the Poinsettia Pavilion  for the Valentine's Sweetheart Dance Fundraiser from 6-10pm.  Dance to the live music of the 4 piece Band "Coso Live" with  catering provided by Bistro 13 of Camarillo.
Limited seating is available for fifty couples only! Go online to reserve www.hermanbennettfoundation.org.  Purchase your tickets at $225.00/couple.  All supporters are mentioned in their publications and website.  If you wish to donate or volunteer, visit either The Herman Bennett Foundation website or call  445-7171 or Save a Life Thrift Stores website www.savealifethriftstores.com or call (888) 876-0605 for free donation pick-ups.
•   The Humane Society of Ventura County has appointed the Rt. Rev. William Downey to its Board of Directors. Downey, Regionary Bishop of the Liberal Catholic Church for the Province of the United States, and his wife Anita have been volunteers at the HSVC for several years, mostly performing home checks of potential pet adopters. The couple live in Ojai with their six dogs – all rescues from the HSVC's shelter.
"I can't conceive of life without dogs," Downey said.
The Humane Society of Ventura County is a private, nonprofit organization founded in 1932. It does not receive federal, state or local tax dollars to operate and relies solely on private donations.
---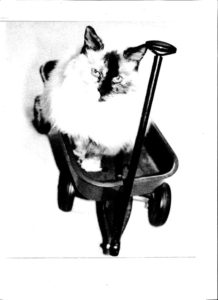 Cobi Monroe Osborne-Klemme April 28, 1994 – November 22, 2016
The family of Cobi is saddened to announce the passing of our beloved cat. At the advanced age of 22, she passed peacefully a way with her family at her side. We mourn her loss, but celebrate her long and well lived life, sharing it with her guardians Jeff And Roger. Cobi enjoyed snacking, collecting solder energy on her window perch and riding in her Radio Flyer wagon.