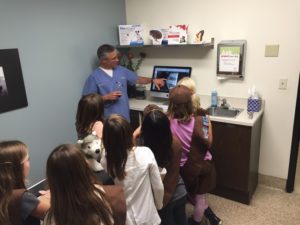 •   Brownie Troop 61686 recently teamed up with Anacapa Animal Hospital in Ventura for their annual drive to collect towels for the local animal shelters. The girls participated in the drive as a part of earning their Pets badge. Dr. Burner gave the girls a tour of the hospital, where the girls were able to see X-rays and ultrasounds kept on file and learn about the different aspects of medical treatment. Prior to their visit, they studied about pet care, with a booklet provided by Anacapa Animal Hospital, created for Girl Scouts.
•   This is good news for people and dogs that are in need of help. The Ventura County Sheriff's Office Detention Services Division will be launching a new interactive inmate program named "R.U.F.F. Road" (Rehabilitation Utilizing Furry Friends) scheduled to start in January 2017. The 16-week collaborative program allows inmates who are instructed by expert dog trainers to train shelter dogs in preparation for adoption.
The Sheriff's Office has established a partnership with PIVOT Animal Assisted Education Outreach, a non-profit organization that aims to give dogs facing euthanasia at local shelters a second chance by providing them training that makes them more adoptable.  The inmates will teach basic obedience, house training, and socialization skills through positive reinforcement.
Inmates will be selected for the program based on completion of an application, good behavior, participation in other Detention Services educational/vocational programs, and an interview with program staff.
This program allows inmates a chance to give back to their community by training dogs to be well-behaved American Kennel Club Good Citizen Pets.  While the dogs learn good behavior, trust, and skills that improve their adoption chances, the inmate's gains patience, confidence, self-pride, communication and job skills.
The Ventura County Sheriff's Office and Pivot hope to help the community by allowing jail inmates an opportunity to choose a different path in life; a life free of crime.  Pivot is one example of many organizations willing to work tirelessly to find and save last chance shelter dogs using inmates in county jails.
And the Ventura County Probation Agency has announced the start of "Pawsitive Steps," a unique dog rescue/canine training program at the Juvenile Facilities in Oxnard.
The Probation Agency is also working with PIVOT on the canine program, which is set to begin in January 2017. The program name "Pawsitive Steps" (what great names)was chosen by youth and staff at the Juvenile Facilities.
"The Pawsitive Steps" program offers last-chance Ventura County shelter dogs and at-risk youth an opportunity to work together toward mutual rehabilitation. The program is designed to save shelter dogs and change the lives of at-risk youth," said Deputy Probation Officer Debbie Navarro. "The Pawsitive Steps program will help Juvenile Facilities youth develop personal and vocational skills through the career pathway component of the program. Youth selected for the program will learn patience, compassion, empathy, restorative justice principles, and responsibility by caring for, training, and ultimately helping find forever-homes for dogs" .
"Dogs will be selected from local rescue groups and the Ventura County Animal Services shelter. Over the course of 12-16 weeks, program staff will instruct Juvenile Facilities youth in canine training techniques. The dogs will reside full-time with the youth at the Juvenile Facilities."
At the completion of the program, the dogs will be available to the public for adoption. The program offers youth the opportunity to receive certified training that will help them find employment upon release. For additional information, please visit http://www.pivotareo.org/.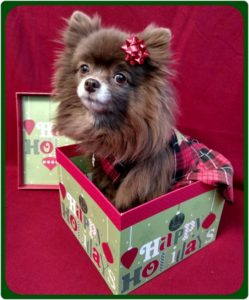 •   Cesar Millan Cesar's Fifth Natural Dog Law says, "Dogs are social pack animals with a leader and followers. They are happiest when they have this structure because the followers want to be told what to do and know what the leaders expect of them. By the time a dog is an adult, it knows its pack position instinctively and is not going to change it. This is why you can't turn a follower into a leader. If you put a dog like that in charge, it will become anxious or fearful because it won't know what to do."
I try to lead Savana but she just ignores me.