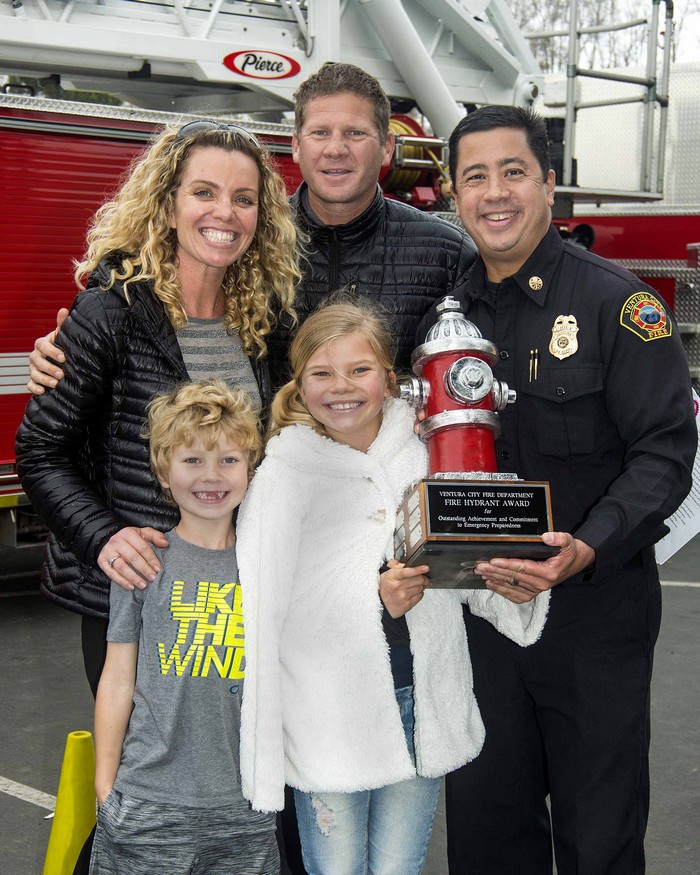 The Ventura City Fire Department announced the winner of the 4th Grade "Fire Hydrant Award" essay contest in a surprise presentation, Monday, Dec. 12 at Mound Elementary School. Brody Daw whose winning essay was selected received the "Fire Hydrant Award" presented by Fire Chief David Endaya and firefighters from Ventura City Fire.  The Fire Hydrant Award remains on display year-round at the winning school, and includes a plaque engraved with the names of current and past award recipients.
More than 1,400 students from Ventura Unified Elementary Schools attended the 4th Grade Fire Safety Days event in October 2016, where they experienced hands-on demonstrations, fire science, and fire safety lessons from members of the Ventura City Fire department.  Students then wrote essays about the important safety lessons they learned at the event. Teachers selected the top essays from their school, and submitted those to Ventura City Fire Chief David Endaya.  Chief Endaya reviewed the student's works and selected the winning essay, along with two honorable mention essays.
Todd Tyner, Principal of Mound School told the Breeze.
"Fire Safety Days is designed to be a day of learning how professional firefighters apply math and science concepts that are generally introduced to students in 4th grade, such as conversion formulas, time/rate/distance, mass/volume, transfer of energy, resource conservation, natural hazards, and the influence of modern engineering and technology. When students return to classrooms, they are invited to write what they've learned in an essay. The essays are collected and turned over to the Fire Chief, where his team begins the difficult process of narrowing down several hundred entries to declare a winner."
" Mound School is proud to have a student who produced the winning essay this year, and Elmhurst School is equally proud that the two runner-up essays were from their students. Past winners have come from Pierpont, Lincoln, Portola, Junipero Serra and Sunset School. In actuality, several essays could potentially be chosen as the winning essay because VUSD students have proven to be fantastic writers with much to say about their experience with the firefighters. We applaud Chief Endaya and the Ventura Fire Department for their effort and commitment to the students in Ventura. This has become a valuable partnership for our community."